"CWW made a big difference to us when we moved to Princeton. We knew only a few people here and it was great to be welcomed almost instantly into an entire community of interesting and friendly people."
COMMUNITY WITHOUT WALLS
Is CWW right for you?
Do you want to continue to live a meaningful life in the home and community you love?
Are you looking to make new friends, form new connections, and join a community of mutual support?
Have you wondered who will be there for you as you age?
Do you live in the greater Princeton area (within twenty-five miles of Princeton)?
Then CWW may be for you!
Now, after thirty years of fruitful service to the community, CWW is transitioning to become a program entity of the Princeton Senior Resource Center. We are delighted to welcome CWW into PSRC and we look forward to many more years of successful operation.
CWW is organized into "houses" (chapters), that have up to one hundred members in each, that provide programming, social and affinity groups, and member support. The goal of maintaining this structure is to allow members of each house to develop a true sense and spirit of community as relationships are built over time. These relationships generate a support system where members offer and receive help from one another when needed.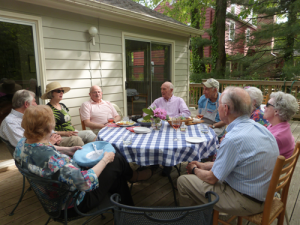 Each house has regular (often monthly) meetings that feature speakers or program topics of interest to the group members. In addition, houses have a variety of social and affinity groups — such as gardening groups, ethnic dining groups, movie groups, and much more. Each house determines its own structure and programs/activities throughout the year. New houses may be formed when twenty-five people come together with a desire to form a new chapter. Members pay modest annual dues (currently $35/year) to belong to one of the houses. Dues cover administrative and operational expenses incurred by PSRC, as well as program support for each house's activities throughout the year.