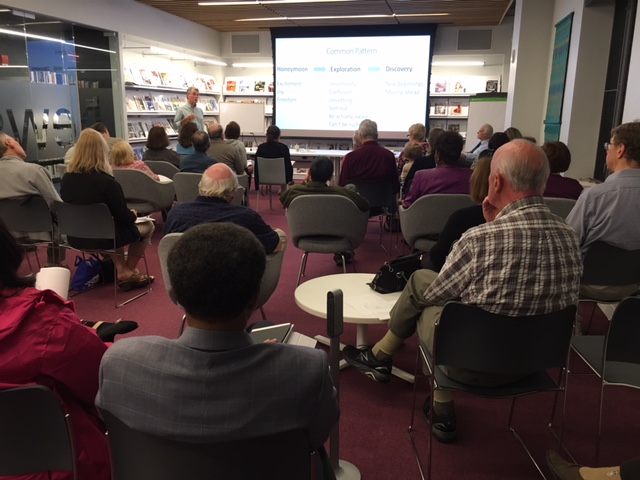 This class and the people in it have gotten me through the last few months.
ENGAGED RETIREMENT
This is not your parents' retirement!  Today we want to learn, engage, and volunteer. Many of us continue to work, possibly with different responsibilities or hours, or we finally have a chance to work for something that stirs our passion. PSRC offers workshops and groups to help you plan, transition into, and enjoy your retirement. We can also connect you to resources to help you fill your dream.
ENGAGED RETIREMENT PROGRAMS AT THE PRINCETON PUBLIC LIBRARY
These programs are offered in collaboration with the Princeton Public Library, featuring speakers on a variety of retirement issues, including financial planning, elder law, caregiving, volunteering, Medicare, downsizing and organizing, and more. Check out our Newsletter for dates and times.
RETIREMENT GROUPS AT PSRC:
MEN IN RETIREMENT
Come and meet others who are making or have made the transition into retirement. All are welcome!
The group meets on the first Friday of each month at 2:00 p.m. (usually on Zoom). For monthly topics, see our monthly newsletter.
Men in Retirement is facilitated by Barry Chalofsky
TRANSITION TO RETIREMENT
This group addresses the many issues that can arise while making the adjustment to retirement. All are welcome!
This group meets on the third Friday of every month at 2:30 p.m. — Hybrid at the Poor Farm Road location.
Facilitated by Paul Knight.
WOMEN IN RETIREMENT
Meet interesting people, make new friendships, enjoy conversation, share experiences, and join in engaging activities that stimulate personal growth. All are welcome!
This group meets on the third Friday of every month at 10:00 a.m. Please see PSRC calendar for details or visit the group's website at wiret.wordpress.com.
This group is facilitated by Cheri Chalofsky, Joan Fredericks, and Dina Kravets.