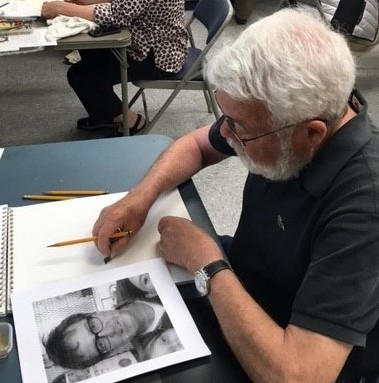 The computer helpers are so patient and helpful. My phone has become a lifeline I use every day.
Enrichment Programs
Please visit "Monthly Events" HERE for upcoming class registration links
BASIC DRAWING: BEGINNERS TO ADVANCED
This course introduces students to a variety of easy to learn drawing techniques and encourages students to develop their own style. Each interactive session includes a specified lesson plan, with practice and drills, time to share, and personalized critiques designed to unblock the artist in you, tap into your imagination, unleash your creativity, and exercise your memory, analytical, and small motor skills. There is a minimum of 7 students for course viability and a maximum of 10 students.
Instructor: Denise McDaniel
Tuesdays, 9:30 a.m. on Zoom
Fee: $80
COSMOLOGY
This class is a peer-led science discussion on the fascinating subject of cosmology.
Thursdays, 10:00 a.m. at the 101 Poor Farm Road location
Fee: $20 annual
Contact: Bruce Wallman at brucewallman@gmail.com for more information
FIGURE DRAWING
Open to all skill levels, this class will focus on all aspects of figure drawing, including basic drawing techniques, anatomy for artists, and drawing the portrait. Students will work together online, in sketchbooks with a pencil. Classes include short demonstrations and draw-a-longs, with time for individual feedback. Long poses are assigned each week for additional personal enrichment and critiqued in class the following week. There is a minimum of 6 registrants for course viability and a maximum of 10 students.
Wednesdays, 9:30 a.m.
Fee: $80
Instructor: Denise McDaniel
GAMES DAY AT PSRC
Come with a partner or a few friends to enjoy game playing at PSRC. Mah Jongg (bring your own set), Scrabble, and Social Bridge.
Tuesdays, 1:00–4:00 p.m.
Registration required, no fee.
MASTERING THE ART OF PAINTING
For advanced painters, this eight-session class emphasizes the components of the creative painting process. 6 Students required for course viability and limited to 6 students.
Call for availability.
Fridays, 2:00 p.m. at the Suzanne Patterson Building
Fee: $80
Instructor: Christina Rang
MEMOIR WRITING WITH JENNIFER
What's your story? In our online memoir workshop, you will learn how to get started on mining your memories and shaping them into well-crafted pieces. We will engage in writing exercises, discuss the craft of writing, and share examples from several published memoirs to inspire you. Limited to 15 participants.
Call for availability.
Thursdays, 1:00 p.m. on Zoom
Fee: $75 per quarter
Instructor: Jennifer Altmann
THE DONALD AND NANCY LIGHT TECHNOLOGY LAB
Monday through Friday, 9:30 a.m. to 4:30 p.m.
Our well-appointed and roomy Tech Lab welcomes you with brand new PC's and MAC computers. Stop by to check your email, get some work done, connect with friends and family, or surf the web Tech assistance is available two ways: in-person on Thursdays, from 2:00 to 4:00 p.m., and virtually, Monday through Friday. All tech help is by appointment only.
No Fee. If you need technology assistance — fill out a request form HERE or email your request to tech@princetonsenior.org. Or leave a message at 609.751.9699.
The Tech Lab staff also offers classes frequently — check our calendar for upcoming classes.
Additional Enrichment Programs
ART SHOWS
In the Spring we hold a show of the works of our art students. Throughout the year we also hang work of various local artists.
FYI SEMINARS
Informational seminars presented by area professionals cover a wide range of topics, including health, retirement, safety, downsizing, and organizing, legal and financial issues and more. Most are held Tuesday at 3:00 p.m.; watch the monthly newsletter for specific topics, dates, and times. No fee.
MOVIES
Popular movies are shown on the first Friday of the month at 1:00 p.m., and weekly during the summer on Wednesdays at 11:00 a.m. and Fridays at 1:00 p.m. No fee. Watch the monthly newsletter for specific titles, dates, and times.
OPERA VIDEOS
In January and June, in collaboration with Princeton Friends of Opera, we show weekly opera videos. Watch the Newsletter for specific titles, dates and times.
SPECIAL SPEAKERS
Throughout the year, special speakers present on books they have written, travels, hot issues, and topics of interest. Watch the monthly newsletter for details.
TED TALKS
First we watch a TED talk, then we discuss it. Check the monthly newsletter for topic listings. Discussions are facilitated by Helen Burton. All are welcome. No fee. Every Tuesday at 10:30 a.m. — In-person at the Poor Farm Road location.