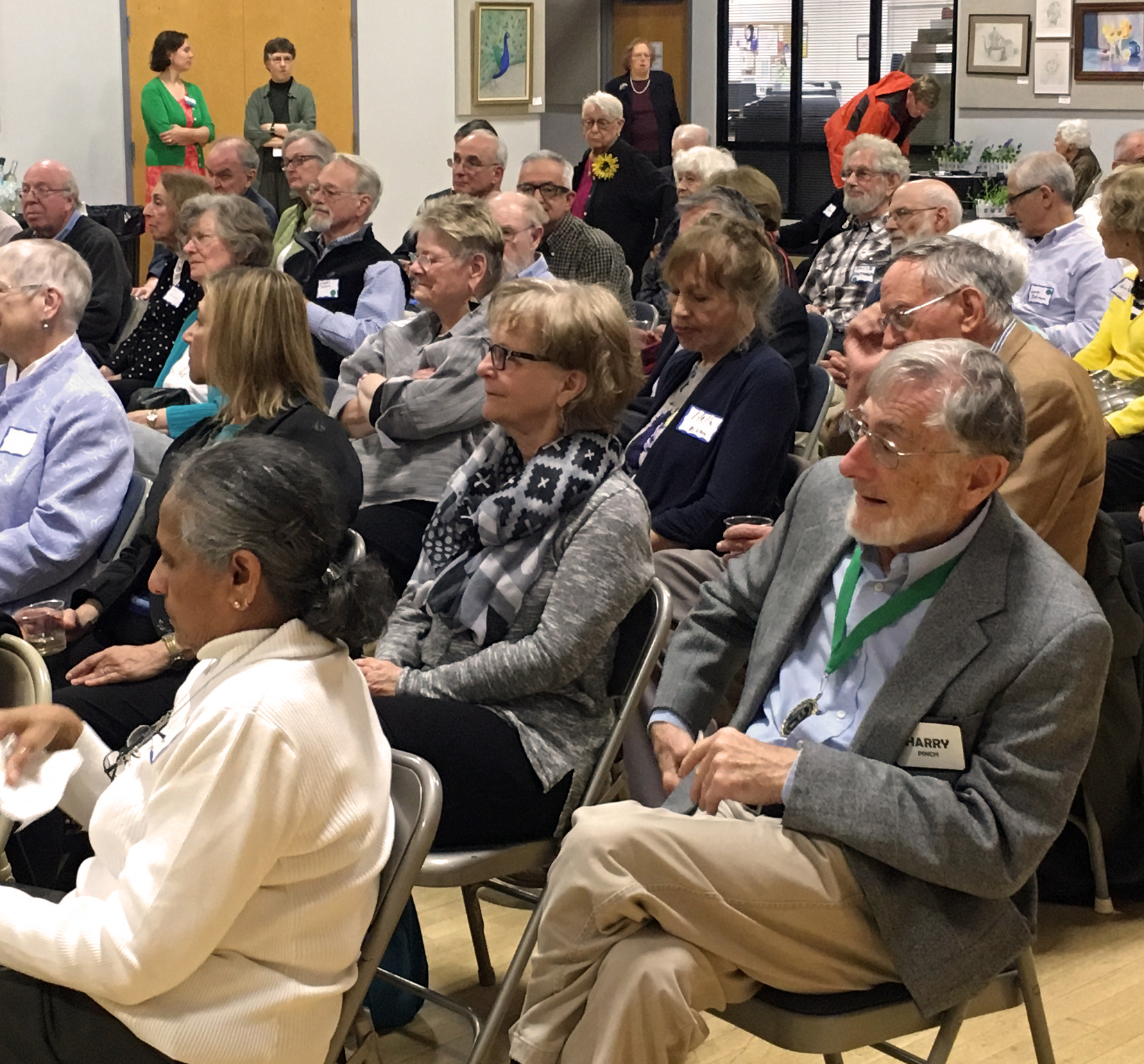 The best part is the students. They have so much to share from their own life experiences; I learn a lot from them.
Evergreen Forum
Evergreen Forum corporate sponsors for spring 2024:
Brandywine Living: Princeton, Pennington, & Serenade at Princeton, Capital Health, Homewatch CareGivers,
McCaffrey's Food Markets, Penn Medicine Princeton Health, and Stark & Stark Attorneys at Law
Registration opens on Tuesday, January 30 at 9:30 a.m.
Courses begin the week of March 4
---
WELCOME to the Evergreen Forum, a program of the Princeton Senior Resource Center (PSRC). We are well into our second decade! The Evergreen Forum has grown dramatically since 2001, from forty participants in four classes the first semester to more than 600 in up to twenty-eight classes. The organization is led by a volunteer Steering Committee with volunteer instructors. It is a member of the Road Scholar Institute Network.
The Forum provides stimulating daytime study and discussion programs for adults from throughout the greater Princeton area. It encourages active participation for those who enjoy learning for its own sake. Our course leaders are drawn from teachers and other professionals devoted to their subject and wishing to share their enthusiasm.
The Evergreen Forum uses a first-come, first-served enrollment system.
Governance of the Evergreen Forum is conducted by a Steering Committee elected by participants in the program at an Annual Meeting. The Steering Committee makes policy with respect to the courses offered, the recruitment and evaluation of course leaders and the conduct of the Annual Meeting and other meetings for participants. PSRC manages all administrative aspects of the program. Steering Committee positions include Chair, Vice-Chair, and Secretary as well as Standing and Ad Hoc committees with specified responsibilities.
Steering Committee Members 2022–2023:
Sandy Kurinsky — Chair
Judith Wooldridge — Vice Chair
Harold Heft — Secretary
Phillip Carchman
Lynne Cullinane, ex officio
Peggy de Wolf
Marna Golub-Smith
Christina Kales
Barbara Kirsh
Stuart Kurtz
Harold Kuskin
Shashank Otiv
Dianne Sadoff
Jill Sandel
Peter Smith
Frederick Young
Participation in the Evergreen Forum is required to serve as a member of the Steering Committee or any other Evergreen Forum committee. Participants are persons who have taken or led an Evergreen Forum course. They are encouraged to contribute to the administration and operation of the program by serving as officers, committee members and course leaders. They are also invited to attend the Annual Meeting to vote in the election of Steering Committee members and on other such matters as presented by the Steering Committee.