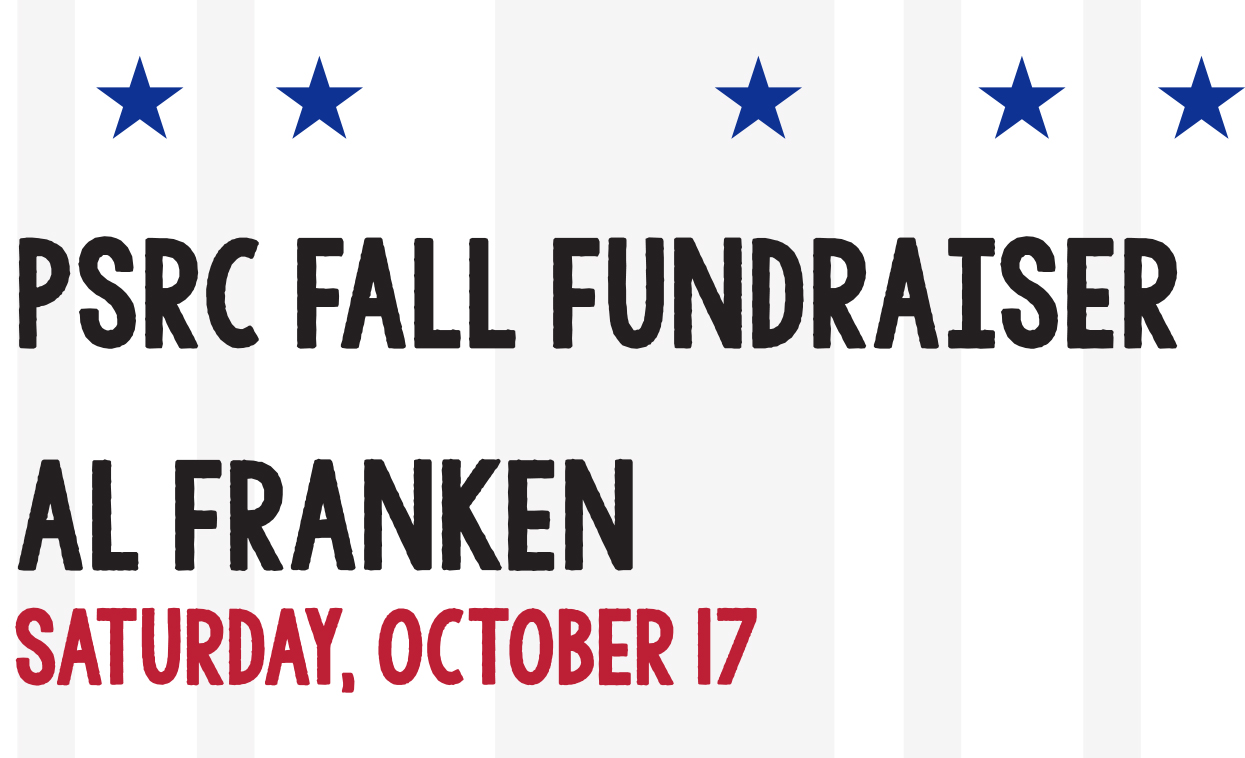 PSRC proudly presents
An Evening with Senator Al Franken
Former U.S. Senator, Author, Comedy Writer, Comedian, Producer, and Screenwriter
Date: Saturday, October 17, 2020
Virtual VIP meet and greet via Zoom 6:30-7:15 p.m.
Virtual Program Time: 7:30 p.m.
This Fall, PSRC is hosting Senator Al Franken (and former SNL alumnus), for our virtual annual fundraising event. Proceeds from this event funds PSRC's essential social services providing support and extensive educational and social programming for the most vulnerable in our community. PSRC has set a goal to raise $75,000. Help us achieve this goal and become an event sponsor.
An event sponsorship offers unique advertising benefits. We are a perfect fit for the company looking to build brand awareness, share their communal responsibility and increase visibility among 3,500 plus patrons of the greater Princeton area.
PRINTABLE SPONSORSHIP & AD FORM
---
Sponsorship Opportunities

Sponsorships include complimentary tickets, virtual reception with Al Franken, recognition on digital invitation, ad in digital program, company name on PSRC website, and name listing in eblasts
Saturday Night Live —$10,000
• 10 Complimentary tickets
• Full page ad
Gilda Radner — $7,500
• 8 Complimentary tickets
• Full page ad
Jane Curtin— $5,000
• 6 Complimentary tickets
• Half page ad
Dan Aykroyd— $2,500
• 4 Complimentary tickets
• Half page ad
John Belushi— $1,500
• 4 Complimentary tickets
• Quarter page ad
---
Ad Opportunities
Full page ad: $1,000
• 6" wide x 7.5" high
Half page vertical ad: $700
• 3" wide x 7.5" high
Half page horizontal ad: $700
• 6" wide x 3.75" high
Quarter page vertical ad: $350
• 3" wide x 3.75" high
Business card size ad: $125
• 3" wide x 1.875" high
Advertising Deadline & Specifications
• For sponsorship name inclusion in our pre-event promotional materials register and make payment by September 1, 2020 to be included in the first digital invitation.
• FINAL payment and artwork deadline for inclusion in digital ad program is Thursday, October 1, 2020
• All advertising copy should be submitted at actual size, camera-ready, no bleeds, 300 DPI
• We accept the following formats: PDF (preferred), EPS, AI
• Email ads with all logos, images, and fonts embedded to bprince@princetonsenior.org
Questions: Contact Barbara Prince at 609.751.9699, ext. 107 or bprince@princetonsenior.org
THANK YOU FOR BELIEVING IN OUR CAUSE — WE THANK YOU FOR YOUR SUPPORT!