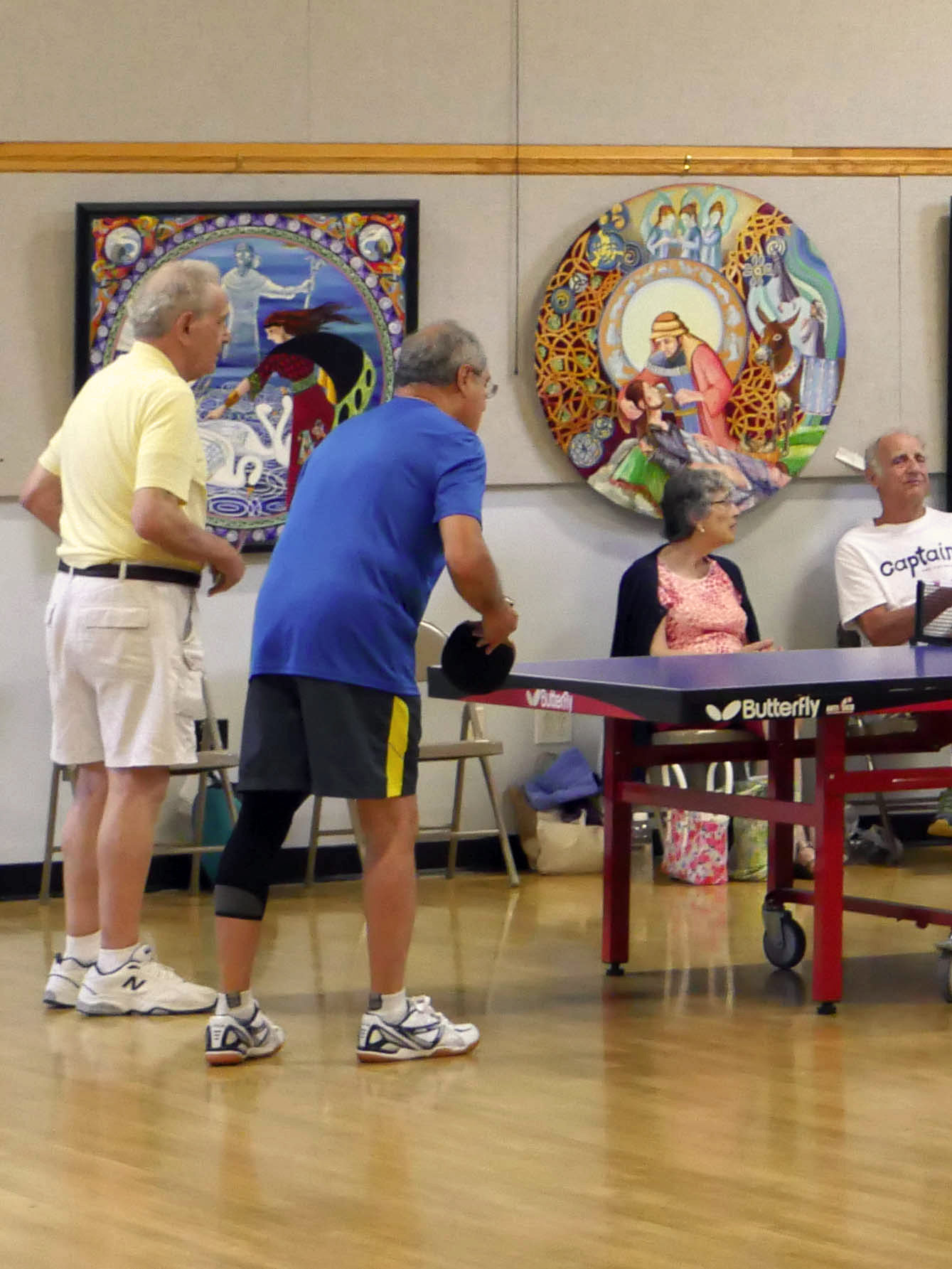 X is the very best  instructor, and her enthusiasm makes it so much fun, and we're getting a workout at the same time!
Health & Fitness Classes
Health & Fitness Registration Information
---

AEROBICS
Low impact aerobics for seniors.
This class is held at PSRC but is a Princeton Recreation Department program.
Mondays, Wednesdays, and Friday 9:15–10:15 a.m.
For fee and registration call the Princeton Recreation Department at 609.921.9480.
Suzanne Patterson Building
CHAIR EXERCISE
Join instructor Laraine for lively chair exercises designed especially for people with arthritis, cardiac problems, emphysema & rheumatism.
Mondays at 11:30 a.m. and Fridays at 12 noon
Fee: $48/quarter
Spruce Circle
EARLY BIRD AEROBICS 
Get moving in the morning with 45 minutes of cardio and toning. Everyone welcome regardless of age.
Every weekday morning at 8:00 a.m.
Fee: $30/month or $10 per drop-in
Suzanne Patterson Building
EVERY BODY WALK! 
This free walking program offers great options for safe walking in beautiful Princeton and the surrounding area. Walking sticks and canes are welcome.
Tuesdays and Thursdays at 10:00 a.m.
This program is available from March through November.
For more information, go to www.progressionpt.com or call Progression PT at 609.454.3536.
Co-Sponsored by Progression Physical Therapy and PSRC
GENTLE MAT YOGA with Joy Cline-Okoye
Encourage your body, mind, and spirit to remain healthy and strong. You will feel improved muscle flexibility, stronger joints, deeper relaxation, better focus, and less anxiety.
Thursdays at 10:00 a.m.
Fee: $72/quarter for residents; $96/non-residents
Suzanne Patterson Building
MINDFUL CHAIR YOGA with Lyn Lilavati Sirota
This is a gentle, versatile form of yoga that is adaptable for all skill levels and abilties and for those with balance issues and injuries.
Reduce stress, gain flexibility, strength, energy, all at a perfectly slowed pace. Improve overall health and well-being!
Tuesdays at 9:30 to 10:30 a.m.
Fee: $72/residents; $96/non-residents
Monument Hall – Multi Purpose Room
TABLE TENNIS
Come for comraderie, a little exercise, and fun! All skill levels are invited to participate in this energetic sport. We welcome beginners, intermediates, and beyond!
Mondays, Wednesdays, and Fridays from 12:30 p.m. to 4:30 p.m.
No fee, drop in.
Suzanne Patterson Building
NEW!

ZUMBA GOLD FOR SENIORS
Fabulously fun with no previous experience necessary. This Zumba class recreates all the moves you love at a lower-intensity with easy-to-follow steps that focus on balance, flexibility, range of motion, muscle conditioning, cardiovascular, and coordination. This class checks off all the boxes and will leave you feeling strong and empowered. Join certified Zumba Gold instructor Abigail Pinheiro who will show you how to mix movement, music, merriment, and improve health.
Thursdays in February and March, 12:00–12:45 p.m.
Fee: $32/mo residents; $40/mo non-residents
Suzanne Patterson Building