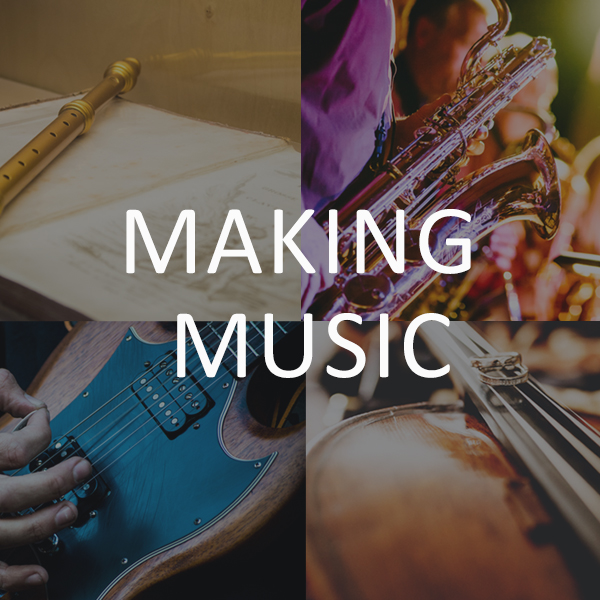 2021 Making Music
April 28 and May 5, 12, 19, & 26, 11:00 a.m.
$10 per session
PSRC Making Music Series is sponsored by Mobility Doctor and Star of David Memorial Chapel

PSRC welcomes spring with a series celebrating music. From Mozart to the blues, we'll travel the globe to learn about the interactions between music and culture. You'll have orchestra seats and unobstructive views as we learn about different musical traditions at home and abroad.
Singing the Temperance Blues: America's love-hate relationship with Prohibition
Sousa Archives and Center for American Music, Urbana-Champaign, Illinois
Wednesday, April 28 at 11:00 a.m.
Prohibition was a uniquely American experiment, an idealistic and ultimately doomed effort to change behavior on a national scale. Popular culture reflected Americans' varying responses to the movement. During the early years, songs were written to encourage sobriety and to promote various cures for alcohol addiction. We'll learn about the musical response to Prohibition and how it evolved through the life of the Eighteenth Amendment.
Ethno-music-what?
Musical Instrument Museum, Phoenix, Arizona
Wednesday, May 5 at 11:00 a.m.
Across the globe, music has the power to transform people. From ritual and religious ceremonies to Friday night jam sessions, music crosses both real — and imaginary — borders and boundaries. Ethnomusicology is the study of music and world cultures, and it's everywhere. Join Katie Palmer, curator of education at the Musical Instrument Museum, to learn more about MIM, challenge some preconceived notions about music, and think critically about the ways that music transcends and transforms. This session will focus on sounds from Africa. Please be prepared to recall your personal experiences with music — from both near and far.
Wolfgang Amadeus Mozart
Mozarthaus, Vienna, Austria
Wednesday, May 12 at 11:00 a.m.
Wolfgang Amadeus Mozart's Vienna years lasted from 1781 to his death in 1791. It was in the "City of Music" that Mozart composed most of his oeuvre, and this apartment in the heart of Vienna was his residence for several of those years. We will learn about Mozart's life and work with special emphasis on his time in Vienna and the unique social and cultural circumstances of his life there.
American Jazz Museum Virtual Tour, Kansas City, Missouri
Wednesday, May 19 at 11:00 a.m.
Join us on a guided virtual tour of the American Jazz Museum. The museum showcases the sights and sounds of jazz through interactive exhibits and films. Since its inception in September 1997, the Museum has hosted thousands of students, scholars, musicians, and fans of the arts for over 200 performances, educational programs, and special exhibitions, providing an opportunity to learn about the legends, honor their legacy, or simply enjoy the sounds of modern-day jazz.
Meet and Greet with Beethoven
Beethoven-Haus, Bonn, Germany
Wednesday, May 26 at 11:00 a.m.
Take a virtual walk with us through Beethoven's House in Bonn, Germany and get to know the famous composer from totally new perspectives. Find out why he didn't wear a wig, what inspired him, why he stayed a bachelor his whole life, and why he compared his household to a shipwreck. Naturally we´ll also listen to some of his compositions and experience how Beethoven perceived them when his hearing failed.