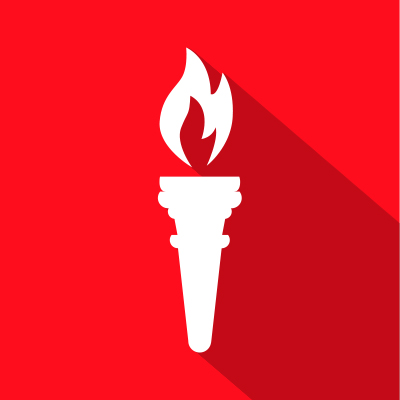 2021 Rings of Glory: The Olympics in History and Art
Thursdays, beginning August 5 through August 26 at 11:00 a.m.
Fee: $35 for all sessions, $10 each
PSRC Rings of Glory: The Olympics in History and Art is sponsored by Lawrenceville Optician.

Join us in the Olympic year 2021 for a look at the Olympics from the classical Greek period through modern times. This series will explore not just athletics but also the art of what has come to be the premier international competition of our era. We will consider how creative works have accompanied athleticism and engaged sports spectators throughout history.
Thursday, August 5 at 11:00 a.m.
OLYMPIANS IN GREEK SOCIETY
U Penn Museum of Archeology — Philadelphia, PA
This interactive presentation will focus on Olympian athletes. Together, we will explore artifacts from the Penn Museum that present athletes in a variety of disciplines. We will think about who was eligible to compete in the Olympic games, how they trained, and what disciplines they competed in. Finally, we will consider what we have seen in the light of an ode by the fifth century Greek poet Pindar and will ask ourselves what it meant for the individual in Greek society to be an Olympic champion.
Thursday, August 12 at 11:00 a.m.
EXPLORING THE VISUAL LOOK OF THE 1980 OLYMPIC WINTER GAMES
Lake Placid Olympic Museum — Lake Placid, NY
Lake Placid welcomed the world in 1980 and had the opportunity to celebrate and be creative artistically alongside the sporting action. This program will explore how artists were responsible for creating a recognizable visual signature within the history of the Olympic Games. They gave a sense of what the Adirondack region was about to an audience around the world. Once the Games were over, there was an emblem and a visual signature for Lake Placid that has triggered people's memories for forty years.
Thursday, August 19 at 11:00 a.m.
OLYMPIC GAMES: HISTORY & NUMISMATICS
Edward C. Rochette Money Museum — Colorado Springs, CO
An overview of Olympic history as seen through coins and medals from ancient Greece to the modern Olympic revival.
Thursday, August 26 at 11:00 a.m.
A BRIEF HISTORY OF THE MODERN OLYMPICS 1896–2021
International Society of Olympic Historians — Santa Monica, CA
David Wallechinsky, former president of the International Society of Olympic Historians, will give a lively chronological history of the Modern Olympics.