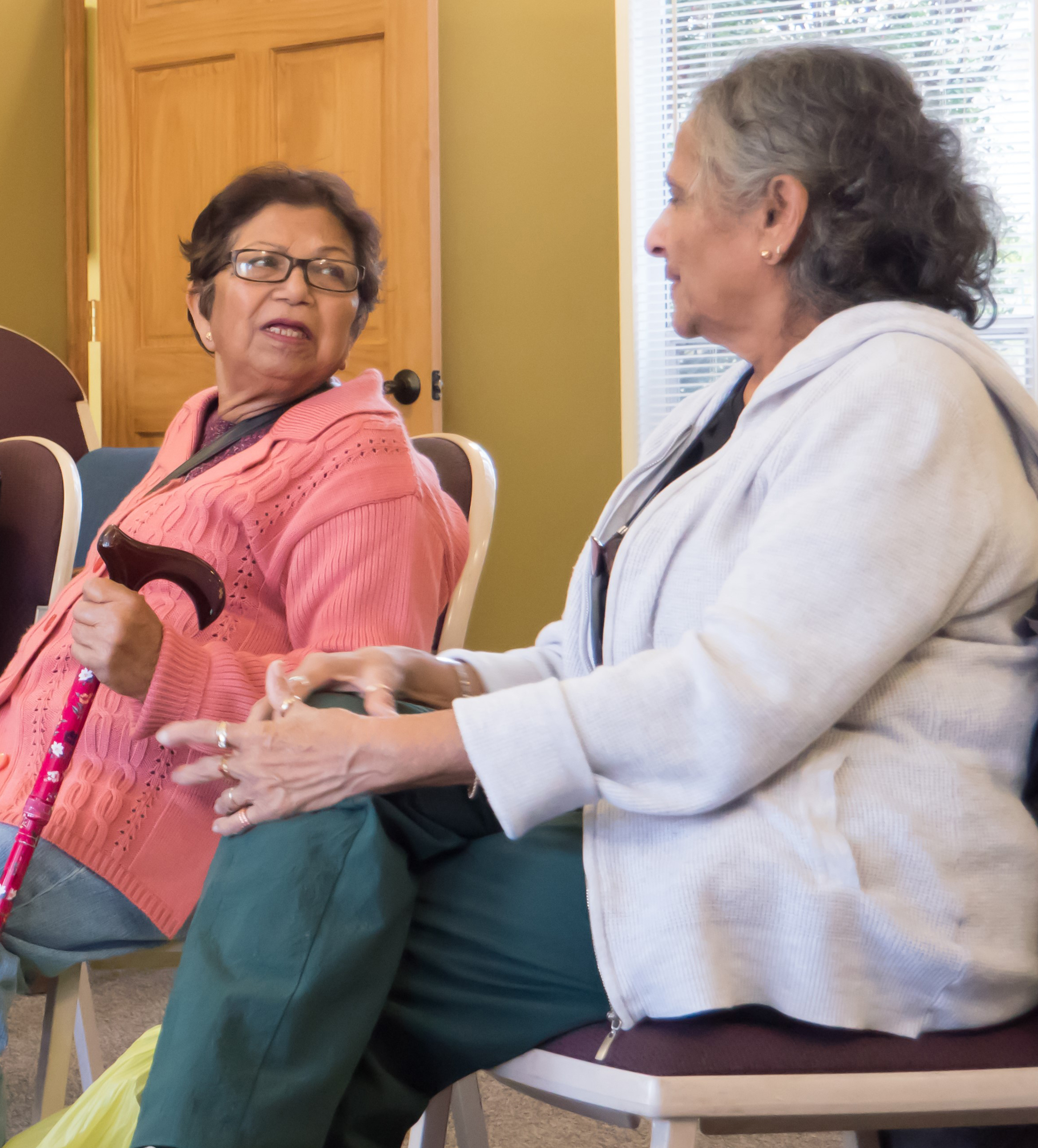 I want you to know how grateful I am for your loving care, expressed to me during my sad loss.
BEREAVEMENT
Led by Sherri Goldstein, LCSW, Bereavement Coordinator with Penn Medicine Princeton HomeCare and a chaplain, this group welcomes community members who need support and assistance in coping with grief and loss.
Call Sherri Goldstein at 609.819.1226 to attend.
CAREGIVERS
Caregiving can be isolating, but you are not alone! In this group, spouses, family members, neighbors, friends, and other caregivers share information, suggestions, and support about the joys and challenges of taking care of loved ones — at home, at a distance, or in a care facility — for any medical diagnosis.
Join us as we learn from and validate each other through our similar and divergent challenges and experiences and share openly, without judgement. Whether it be asking for advice, sharing useful resources, or even just venting frustrations, the Caregivers Group is a great place to discover practical solutions and cope with stress in a supportive and positive setting.
No Fee
Facilitator: Billi Charron, MSW, PSRC Social Worker
CHILDREN OF AGING PARENTS
Professionally facilitated peer support for adult children caring for aging parents. Parents may be living independently, living with you, or in a residential care community, near or far, at any stage in the aging journey.
No Fee
Facilitator: Ruth Bronzan
CRAFTY PEOPLE
Socializing over personal craft projects.
No Fee
EARLY STAGE MEMORY LOSS SUPPORT GROUP
Support Group for people with early stage memory loss to be led by two women with extensive experience as caregivers and leaders in the field of aging.
No Fee
KNIT WITS
Friendly conversation provides the backdrop to the clacking of knitting needles. Start a new knitting project or bring an old one to finish. All knitting levels welcome.
No Fee
Facilitator: Billi Charron, MSW, PSRC Social Worker
GLOBAL CONVERSATIONS
Conversation and culture for adults over fifty-five who are not native English speakers. All languages welcome.
No Fee
Facilitator: Sharon Hurley
GRANDPARENTING
Conversation about the joys and challenges of grandparenting with Lenore Sylvan.
No Fee
LET'S TALK
Share support, resources, relaxation, laughter and stories as well as light refreshments.
No Fee
Facilitator: Billi Charron, MSW, PSRC Social Worker
MEN IN RETIREMENT
Come and meet others who are making or have made the transition into retirement. For information call 609.751.9699.
Group is facilitated by Barry Chalofsky, Rob Hegstrom, and Bruce Wallman.
All are welcome!
No Fee
NEXT CHAPTER: WIDOWS & WIDOWERS
For men and women that have moved through the early stages of grief, after losing a spouse, and are starting to feel ready to engage with people and activities.
No Fee
Facilitator: Sharon Hurley.
TED TALKS
First we watch a fascinating TED Talk, then we discuss it.
Discussions facilitated by Helen Burton.
No Fee
TRANSITION TO RETIREMENT
This monthly group deals with issues related to making the adjustment to retirement. All are welcome.
Facilitated by Paul Knight
No Fee
WOMEN IN RETIREMENT
Meet interesting people, make new friendships, enjoy conversation, share experiences, and join in engaging activities that stimulate personal growth. All are welcome!
This group meets on the third Friday of every month at 10:00 a.m. Please see PSRC calendar for details or visit the group's website at wiret.wordpress.com.
This group is facilitated by Cheri Chalofsky, Joan Fredericks, and Dina Kravets.
No Fee
For more information, call PSRC Social Service team at 609.751.9699.