LAB HOURS — The Tech Lab is located in the Suzanne Patterson Building, and our volunteers are available:
Tuesdays — 10:00 a.m. to 4:00 p.m.
Wednesdays — 1:00 to 4:00 p.m.
Fridays — 10:00 a.m. to 1:00 p.m.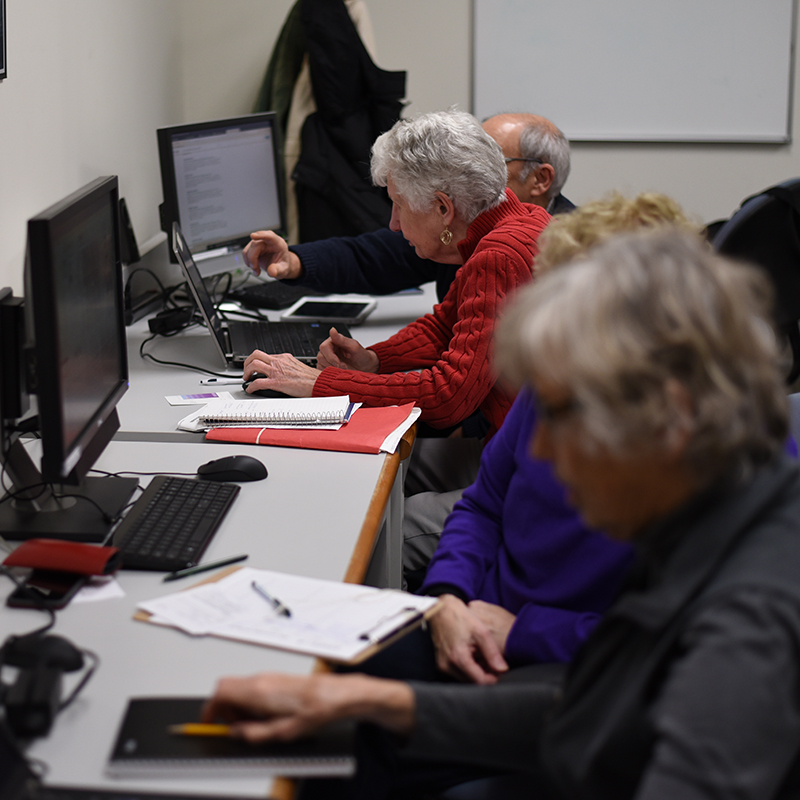 Technology Services for Seniors
Technology Lab Programs sponsored by: Novi Wealth Partners
If you need technology assistance — fill out a request form HERE or email your request to tech@princetonsenior.org. Or leave a message at 609.751.9699.
PSRC's Technology Lab offers free help with your digital devices. Our proficient and patient volunteers are familiar with Apple, Windows, and Android devices, and they will be happy to help you with your laptop computer, tablet, smart phone, or eBook reader. They can also show you how to search for information on the internet, use email, format a document, set up a spreadsheet, or prepare a presentation. And we have desktop computers you can use whenever our offices are open. Registration is encouraged; there is no fee.
The Tech Lab staff also offers classes frequently — check our calendar for upcoming classes.
TECH NEWS 
January 15, 2020 – Microsoft updated its Edge Browser. The new version is based on the same software that Google uses for its Chrome browser. It's easier to set up and seems faster than the old version of Edge.
TIPS & TRICKS 
Restart Your Devices Weekly – Restarting your computer, tablet, and smart phone every week will help keep them running trouble-free
Updates are Important! – Don't ignore the updates that Microsoft, Apple, and Google sent to your Windows, Mac, iPhone, and Android mobile devices. They are not only important features; they also fix security "holes" that keep you safe.
New Snip and Sketch Tool – Microsoft is replacing its snipping tool with a snip and sketch app that lets you select and edit screen captures easily.
IMPORTANT LINKS
Apple Support — official Apple support website for information and how-to articles
Windows Support — official Microsoft support website for information and how-to articles
Microsoft Office Support — official Microsoft support website
Download Adobe Reader — This page automatically senses the type of system you have (Mac or Windows) and defaults to the right one.
Download Firefox
Download Google Chrome
Office 365 — You can see the options and buy Office 365 on this page.
OpenOffice (Apache) — a free alternative to Microsoft Office
ARTICLES & INFORMATION
Computer Guru articles
Handouts from Tech Lab Workshops