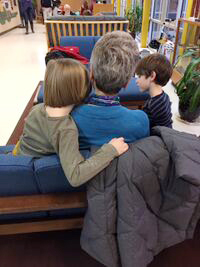 When I retired and realized I still needed a kids-and-books fix each week, Grandpals was the obvious place to turn. Not only does it meet a continuing desire to make books and reading fun and important to kids, but it adds a social purpose to my post retirement life.
GrandPals
GrandPals is an intergenerational educational program connecting Princeton Public School children with older adults. The program's goals are to foster positive relationships between children and older adults and to create a life-long love of reading and learning in young students. GrandPals offers an opportunity for our volunteer readers to share their life experience, skills, and interests. Teachers value this program because it gives their students a calm period during their busy day to listen to fascinating stories, get their questions answered, and relate to an older adult. Many children do not have grandparents nearby and GrandPals is a wonderful opportunity for several generations to meet and get to know one another: the GrandPals, the teachers, and the children.
The GrandPals program is solely funded and staffed through the Princeton Senior Resource Center. This kindergarten reading program started in 1997 at Littlebrook School and has grown to serve children at Riverside, Community Park, and Johnson Park Schools as well.  Approximately 130 GrandPals, ages 47 to 94, read once a week to kindergarten children at these four public elementary schools.
CAN I BE A GRANDPAL?
We need a large team of GrandPals to read to approximately 300 children each week. If you love reading and talking with young children, please call 609.751.9699, or email Ella Leving at eleving@princetonsenior.org, to learn more.