PSRC Memoir Writing Student Gallery
Tiny Love Stories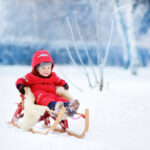 Helen Burton
The Red Snowsuit
The sun was shining after a twelve-inch snowstorm. My husband and I bundled up our one-year-old daughter in her red snowsuit, hat, mittens, boots and went for a walk in the snow. Her cheeks got redder and eyes bigger watching people build snowmen and throwing snowballs. She started to giggle with delight when we stopped to watch a dog running and falling in the snow.
I have treasured this memory for over 50 years.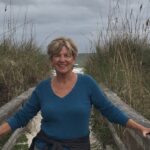 Kathleen Cassidy
Being with Family
She wore a pink dress and walked the halls constantly. If they tried to stop her she would scream. That was her only communication. I saw her when I visited Dad in the nursing home.
My Dad, an Irish immigrant loved music and laughter. Now he had dementia and couldn't live alone. He was sad and quiet.
I arrived one day. The woman in the pink dress was sitting with him and he was feeding her lunch and humming an Irish tune! He called her Kathleen, my name. She was smiling. It feels good to be with family.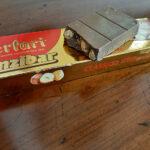 Alice Mass
A Sweet Pandemic Story
Nestled in the box lay the Italian delicacies carefully wrapped in tissue paper. A shiny gold box caught my eye. Sperlari Classico: thick chocolate infused with hazelnuts.
Like a beacon it whispered, "Open me."
Gingerly, I lifted the lid.
"Take a taste — just one," it cajoled.
I put the bar to my lips, and let my teeth slowly glide through the silken chocolate and hazelnut paste.
Its velvety denseness caressed my mouth.
The crunch of the hazelnuts with their buttery sweetness almost came as an afterthought.
Can you fall in love with a taste?
I did with that first bite.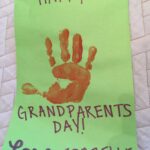 Frank McBrearity
Tickle – Times
My grandson was two years old. I would often greet him with a gentle poke to the stomach, and the questions: "How's your belly? Where's the button?" Soon he greeted me with shirt pulled up, "Here's my belly!" I would promptly tickle his tummy. Tickling became Papa's realm as a granddaughter matured and the older brother brought her to tickle-time on the couch. A second granddaughter matured quickly with a competitive edge, jumping onto Papa on the couch with "tickle me first," well before the other two climbed on. Then a yell: "Got the 'tickle monster,' high five."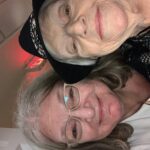 Jean Nitzberg
Goodbye
Mom's sitting today and tells me a story. She's sitting today, but can barely speak. She's in bed today, sleeping. She's sitting today, sleeping. She's in bed. She's in bed.
"It's time. Come now," the hospice nurse says.
"I don't want to go."
"It's OK. It's OK," I tell her softly.
"You're so cold. Let me cover you. Here's your hat."
I play music, read psalms, say prayers for her.
In darkness, a breath, a pause, a breath, a pause, a breath and she's gone.
I take her rings from her tiny, cold finger.
She wasn't alone, but now I am.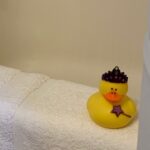 Nina Todor
Drawing a bath
"Would you like me to draw you a bath?" he said. "That would be wonderful" I said gratefully. We had just returned from the ER, I had broken my ankle, my first-time skiing. I held on to the rope tow when I should have let go, but I didn't know. I heard water running upstairs and lots of footsteps. How would we maneuver this? I needed to cry. He came down with a quirky smile, a kiss and a scrap of paper, on which he had drawn me in the bathtub. My laughter finally released my tears.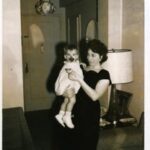 Eleanor Vaughan 1
ONE FINAL GOOD BYE
My mom died suddenly and tragically. She was alone. I was overwhelmed with conflicting emotions, intense sorrow and persistent grief. I ached for one last "I love you," one final "good-bye." There was no relief. Suddenly, in the midst of all that suffering, there she was. Her smiling face, her laughing eyes comforting me. Was it a dream; was it real? I don't know. She'd come to say good-bye. She was leaving but her love would remain. Her final embrace touched my heart, penetrated my soul. Comfort, solace, peace — a mother's gifts of love from another realm.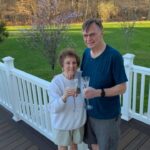 Eleanor Vaughan 2
FOREVER NEIGHBORS
Friday night, 1967, Sherry's 1890 Club, New York City. The singles and wanna-be singles gather after work. I see my neighbor heading toward me. I turn my back. I have no interest; he's not my type. I'll just ignore him and he'll leave. He insists on engaging me in conversation so I escape to the ladies room. When I return, he reappears. Dinner? Why not? It's a free meal. He's not so bad. We raise our champagne glasses and toast our 51 years. Glad you didn't let me escape neighbor.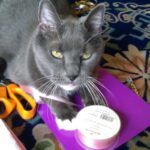 Karen Woodbridge
LUPINE
We looked up and there he was — calmly observing us with large, curious green eyes from the perch in the kitten cage of a Maine animal shelter. "What about that one?" I asked my daughter. She named him Lupine, after the flower. Typical of his Maine Coon Cat lineage, he was huge, over 20 pounds. Never cuddly, the cat was very companionable. After living with Janie during her college years, he became ours with generous visitation rights to his first Mother. Dying too young, Lupine brought joy and love to all of us.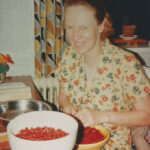 Jean Yepes
Walks in the Heath
Mor cared for 2,000 hens. Every day she made two-course meals from scratch for her family. She didn't need another responsibility. But my Danish host mother welcomed a seventeen-year-old exchange student to her farm. With only a month's instruction in Danish before starting school, I'd return home demoralized some afternoons. Mor lingered with me over afternoon tea. She took me berry picking in the heath and showed me how to force amaryllis bulbs for indoor cheer in the long winter. Her upbeat energy and care helped me stay brave through that year, 1969–70.