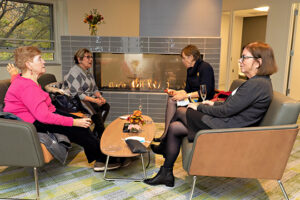 "The addition of this wonderful new building is something we had always hoped for but never really believed possible given our humble origins. This additional investment in PSRC only attests to the trust and partnership of the Princeton Community."
— Jocelyn Helm, Founding Executive Director
THE NANCY S. KLATH CENTER FOR LIFELONG LEARNINGat 101 Poor Farm Road
Throughout Princeton Senior Resource Center's history, many of the friendships formed have helped to shape the stable foundation we know. And because of their legacy gifts, PSRC is able to endure changing times and build the bridge for its future. One such treasured relationship is with the Klaths.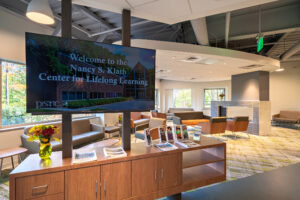 As longtime Princeton residents and patrons of PSRC, Norman and Nancy Klath supported our quality programs and services for many years. Nancy was a strong advocate for lifelong learning both in her career at Princeton University's library and, in her volunteer service with the Friends of the Princeton Public Library, the Friends of the Princeton University Library, the Princeton Adult School, and the Princeton Senior Resource Center. In February 2021, active board member Norm Klath, made a $1.3 million gift to the $5 million capital campaign to honor his late wife Nancy S. Klath.
"I am so very pleased for the opportunity to honor Nancy's life in the naming of this new facility," said Mr. Klath. "Nancy's life was committed to lifelong learning and she loved this community. I am heartened that this new building will carry forward her legacy in this way."
A capital campaign for Lifelong Learning at PSRC is currently in a leadership phase and will launch publicly in the months ahead. "I am hopeful," Mr. Klath adds, "that many throughout the community will join me and PSRC in making this campaign successful."
The new facility at 101 Poor Farm Road, coupled with PSRC's existing location at the Suzanne Patterson Building, will provide a world-class, multi-site senior center that will serve the community, enabling us to carry out our mission to help older adults thrive for years to come.