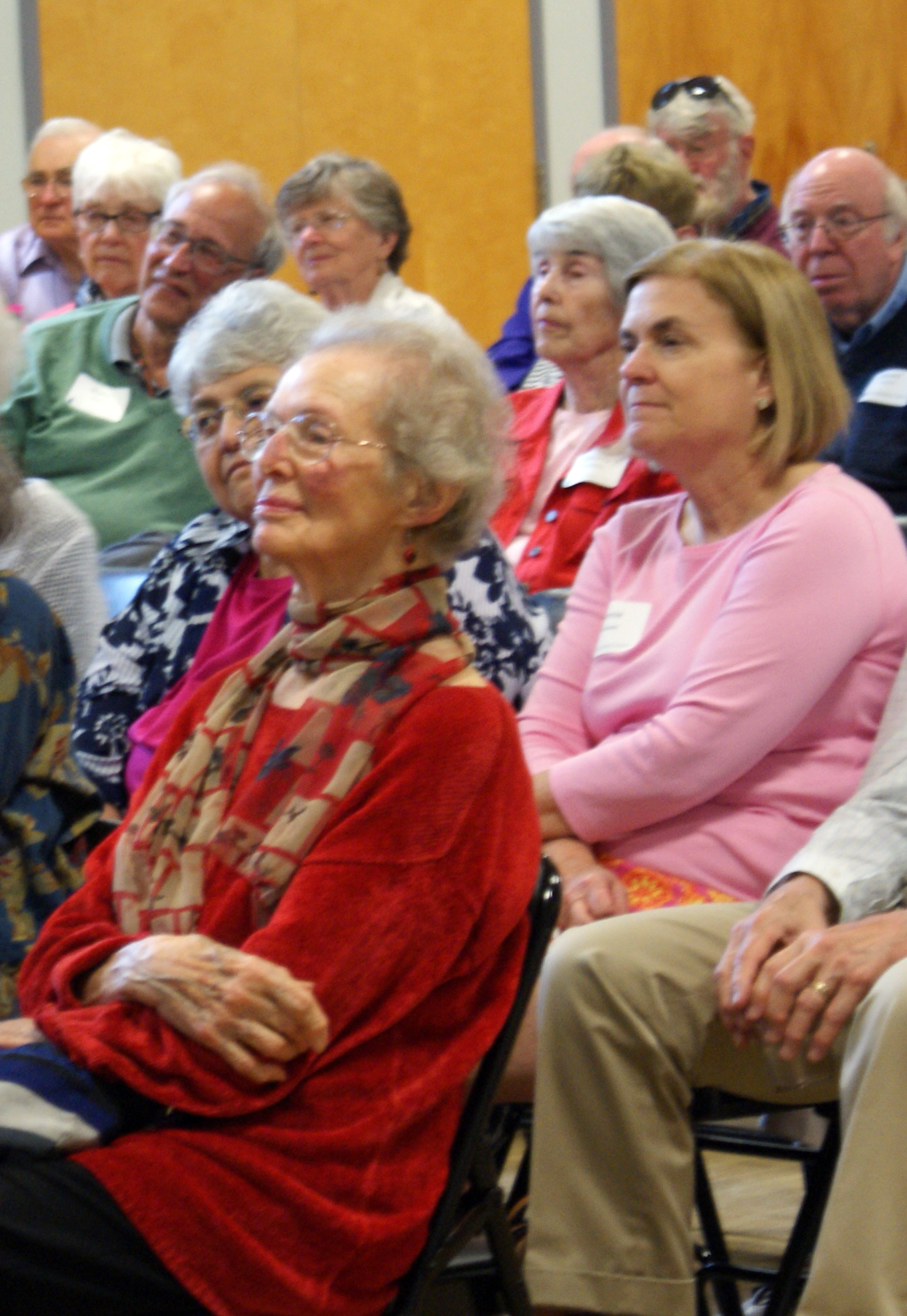 September
PROGRAM AND HIGHLIGHTS

FIRST FRIDAY FILM — "ROMA"
Friday, September 6 at 1:00 p.m.
A year in the life of a middle-class family's housekeeper in Mexico City in the early 1970s.
"Alfonso Cuarón's masterpiece Roma, an autobiographical movie set in Mexico City in the 1970s, uses both intimacy and monumentality to express the depths of ordinary life." — Manohla Dargis, NY Times
Academy Award for Best Foreign Language Film Starring: Yalitza Aparicio, Marina de Tavira
Running time: 2 hours, 15 minutes
Registration required, no fee.
---

FYI SEMINAR — "AGING IN PLACE SAFELY"
Monday, September 16 at 1:00 p.m.
This FYI will offer information to help you or your loved one live independently and safely. Bobbie Burkhart is a professional home organizer who specializes in helping seniors age in place safely and in helping seniors and their families with the downsizing process.
Registration required, no fee.
Sponsors: Oasis Senior Advisors & Ovation at Riverwalk
---

FYI SEMINAR — "HAVE VEGETARIAN & VEGAN DIETS GONE MAINSTREAM?"
Monday, September 23 at 1:00 p.m.
Explore how food choices impact our health and the environment. Heart, breast, prostate, bone, digestive health, and diabetes are discussed. Examine successful strategies for diet change and food waste reduction. Mary Ann Cavallaro, RN, MBA, is a registered nurse and author of What My Dog Told Me About Healthy Eating.
Registration required, no fee.
Sponsors: Oasis Senior Advisors & Ovation at Riverwalk
---

TED TALKS
Every Tuesday at 10:30 a.m.
First we watch a TED Talk, then we discuss it. Discussions are facilitated by Helen Burton. All are welcome. This month's topics:
September 3—No Ted Talk
September 10—Carole Cadwalladr: Facebook's role in Brexit—and the threat to democracy
September 17—Rahul Mehrotra: The architectural wonder of impermanent cities (recommended by Nayan Trivedi)
September 24—Dolly Chugh: How to let go of being a "good" person—and become a better person
Sponsors: Artis Senior Living & Capital Health
---

MEN IN RETIREMENT — "THE PLASTIC POLLUTION CRISIS"
Friday, September 6 at 2:00 p.m.
We cannot live without plastic; it is everywhere and is indispensable in our lives. Unfortunately, the properties that make plastic great, also make it a nightmare for the environment because it does not decompose. Join us for a video on plastic pollution followed by a discussion about how we can work to solve this critical problem. All are welcome.
---

WOMEN IN RETIREMENT — "FOURTH ANNIVERSARY CELEBRATION"
Friday, September 20 at 10:30 a.m.
Come and celebrate our fourth anniversary with a potluck brunch and lots of conversation. Join us in generating ideas for future programs and outings. Newcomers (or new members) are always welcome, along with everyone else! All are welcome.
---

TRANSITION TO RETIREMENT
Friday, September 20 at 3:00 p.m.
This group addresses the many kinds of issues that can arise during the transition to retirement. The group is facilitated by John George, PhD, licensed psychologist, and Dave Roussell, MSEd, MSW, LSW, PSRC Care Coordinator and HomeFriends Coordinator.
---

TECHNOLOGY WORKSHOP — "ANDROID PHONE BASICS 1"
Monday, September 9 at 10:00 a.m.
This course covers the basic operating features of the Android phone. We will discuss the touch-screen icons on the home screen, settings, connectivity with Wi-Fi, phone calls, texting, sending/deleting emails, and the app store Playstore.
Instructor: Joyce Wuensch
Registration required, no fee. Class limit: 10.
---

GRANDPAL ORIENTATION
Wednesday, September 11 at 11:00 a.m.
You don't have to be a grandparent to participate in GrandPals, the program that matches adult volunteers with children in Princeton Public Schools to promote the love of books. At the orientation, we will provide an overview of the program and ask volunteers to sign up for one or more reading sessions.
---

AUTHOR TALK — ANN MCKINSTRY MICOU, A GUIDE TO FICTION SET IN NEW JERSEY
Tuesday, September 17 at 1:00 p.m.
This talk looks at the way characters in New Jersey fiction responded to place in the 19th and very early 20th centuries. The discussion includes issues such as wartime, social class, feminism, resourcefulness, commuting to suburbia, immigration, race relations, neighborliness, satire, and the influence of Princeton University. The book will be available for purchase at $25.
Ann McKinstry Micou, who lives in Montclair, NJ, holds a D.Litt. with distinction from Drew University (2014). The author of a new book, A Guide to Fiction Set in New Jersey, she has also written three guides to fiction set in Vermont and two scholarly articles in Scribner's American Author series. Registration required, no fee.
---

ALL YOU WANT TO KNOW ABOUT PRINCETON PARKING WITH MEMBERS OF THE TOWN COUNCIL
Friday, September 20 at 12:30 p.m.
Council members David Cohen, Tim Quinn, and Leticia Fraga will be at PSRC to offer a brief overview of Princeton's parking rules and rates. They will answer frequently asked questions about the meters, the kiosks, and the phone app. Attendees will also have a chance to actually try the parking app. Handouts will be provided.
Registration required, no fee.
---

YOUR ENGAGED RETIREMENT: A LECTURE SERIES
PSRC and the Princeton Public Library cosponsor this series of free information lectures on a wide array of retirement issues.
Medicare/Medicaid: Making Informed & Cost Effective Choices
Monday, September 23 at 7:00 p.m.
Princeton Public Library, Newsroom
Turning 65? Retiring or reducing your hours? Confused between a Medigap policy, Medicare Advantage, and Medicaid? Need to reduce your drug costs? Understand the differences within Medicare health and drug coverages, when and how to enroll, and what programs may help with the costs. Learn how to select the most cost-effective coverage for your situation! Attend this presentation for an overview and understand how to secure one-on-one FREE counseling with a Medicare certified counselor. Marion Zajac is a Certified Volunteer Counselor for Medicare and has served SHIP clients in Mercer County for the last 6 years.
SCHEDULE:
October 28: Estate Planning
November 25: Affordable Housing in Princeton
January 27: Tax Updates for the 2019 Filing Season
February 24: Downsizing & Organizing
March 23: Transition to Retirement
April 27: Volunteering in Retirement
---

FALL BENEFIT — The Capitol Steps
Friday, October 25, 7:30 p.m.
Stuart Country Day School, 1200 Stuart Road, Princeton
Over thirty years ago, the Capitol Steps began as a group of Senate staffers who set out to satirize the very people and places that employed them. Together the performers have worked in a total of eighteen congressional offices and represent sixty-two years of collective House and Senate staff experience.
What is The Capitol Steps? Go here for information.
---

McCARTER THEATER PRESENTS "GLORIA: A LIFE"
September 6–October 6
Special $30 Offer from McCarter to PSRC Participants
—For the September 6–13 performances only— Use Promo Code: PSRC
By Emily Mann, original direction by Diane Paulus, restaged for McCarter by Emily Mann Featuring two-time Academy Award nominee Mary McDonnell Gloria Steinem first raised her voice five decades ago, championing equality for all. Today, her vision is more urgent than ever. The first act is Gloria's story; the second is our own, as the audience joins in a talking circle to share personal experiences. This inspiring, and powerful event is more than a play—it's a celebration of human connection.