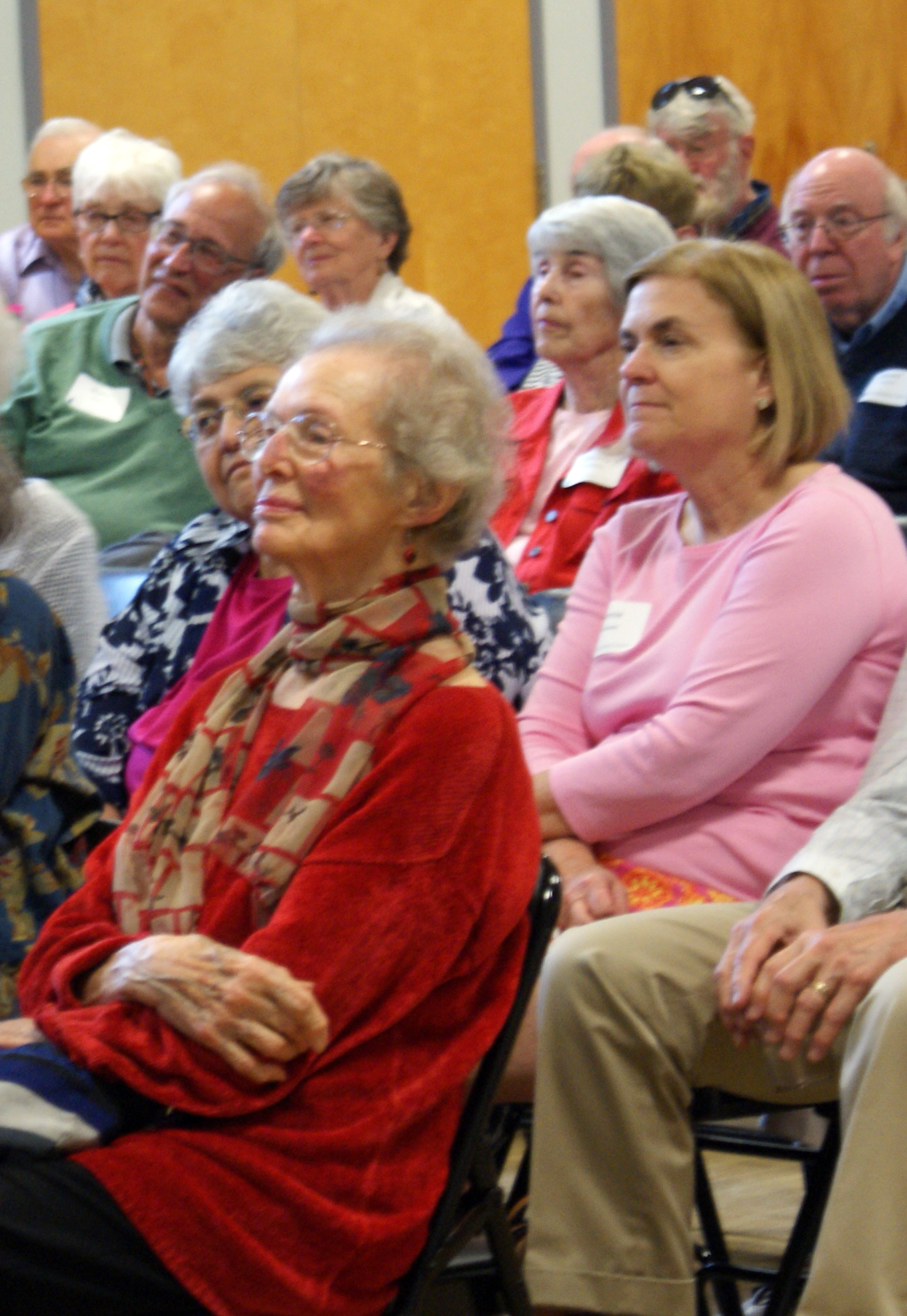 July/August 2018
PROGRAMS AND HIGHLIGHTS

SUMMER CINEMA
Every Friday in July and August at 1:00 p.m. (except July 20 and July 27)
July 6 — "Lady Bird"
A coming of age tale about an artistic and outspoken teen who navigates a loving but turbulent relationship with her strong-willed mother over the course of an eventful and poignant senior year of high school.
Starring: Saoirse Ronan, Laurie Metcaf, Tracey Letts, Lucas Hedges
Running time: 1 hour, 34 minutes
July 13 — "The Post"
Katharine Graham is the first female publisher of a major American newspaper — The Washington Post. With help from editor Ben Bradlee, Graham races to catch up with The New York Times to expose a massive cover-up of government secrets that spans three decades and four U.S. presidents.
Starring: Meryl Streep, Tom Hanks, Sarah Paulson, Bob Odenkirk
Running time: 1 hour, 56 minutes
August 3 — "The Greatest Showman"
Inspired by the imagination of P. T. Barnum, The Greatest Showman is an original musical that celebrates the birth of show business & tells of a visionary who rose from nothing to create a spectacle that became a worldwide sensation.
Starring: Hugh Jackman, Michelle Williams, Zac Efron
Running time: 1 hour, 45 minutes
August 10 — "Victoria & Abdul"
Abdul Karim arrives from India to participate in Queen Victoria's golden jubilee. As Victoria questions the constrictions of her long-held position, the two forge an unlikely and devoted alliance that her household and inner circle try to destroy. As their friendship deepens, the queen begins to see a changing world through new eyes, joyfully reclaiming her humanity.
Starring: Judy Dench, Ali Fazal, Tim Pigott-Smith
Running time: 1 hour, 51 minutes
August 17 — "Marshall"
The story of Thurgood Marshall, the crusading lawyer who would become the first African-American Supreme Court Justice, as he battles through one of his career-defining cases.
Starring: Chadwick Boseman, Josh Gad, Kate Hudson
Running time: 1 hour, 58 minutes
August 24 — "Mark Felt: The Man Who Brought Down the Whitehouse"
Lifelong G-Man Mark Felt, aka "Deep Throat," leaks information to journalists Bob Woodward and Carl Bernstein that helps to uncover the Watergate scandal of 1974.
Starring: Liam Neeson, Diane Lane, Martin Csokas
Running time: 1 hour, 43 minutes
August 31 — "I, Tonya"
Based on the unbelievable but true events, I, Tonya is a dark comedic tale of American figure skater, Tonya Harding.
Starring: Margot Robbie, Sebastian Stan, Allison Janney
Running time: 2 hours
---

OPERA FILM FESTIVAL
Tuesdays from July 10 through August 7 at 12:30 p.m.
July 10 — Giuseppe Verdi: Don Carlo (in Italian)
1983 Metropolitan Opera Orchestra and Chorus with James Levine, conductor
Starring: Placido Domingo, Mirella Freni, Grace Bumbry, Nicolai Ghiarov
Running time: 3 hours, 33 minutes
July 17 — Wolfgang Amadeus Mozart: The Magic Flute (in Swedish)
1975 Inmar Bergman film, Swedish Radio Symphony Orchestra with Eric Ericson, conductor
Starring: Josef Kostlinger, Hakan Hagegard, Elizabeth Eriksson, Birgit Nordin
Running time: 2 hours, 15 minutes
July 24 — Charles Gounod: Faust (in French)
2010 Royal Opera House Orchestra and Chorus with Antonio Pappano, conductor
Starring: Angela Gheorghiu, Roberto Alagna, Bryn Terfel, Simon Keenyslide, Sophie Koch
Running time: 3 hours
July 31 — Gioacchino Rossini: L'Italiana in Algeri (in Italian)
1985 Metropolitan Opera Orchestra and Chorus with James Levine, conductor
Starring: Marilyn Horne, Paolo Montarsolo, Spiro Mallas, Allan Monk, Douglas Ahlstedt
Running time: 2 hours, 37 minutes
August 7 — Giuseppe Verdi: I Vespri Siciliani (in Italian)
1989 La Scala Orchestra and Chorus with Riccardo Muti, conductor
Starring: Giorgio Zacanaro, Chris Merritt, Cheryl Studer, Enzo Capuano, Ferruccio Furlanetto
Running time: 3 hours, 31 minutes
---

CLASSIC FILM FEST
Every Wednesday in August at 11:00 a.m.
August 1 — "Rear Window"
A wheelchair-bound photographer spies on his neighbors from his apartment window and becomes convinced one of them has committed murder. Directed by Alfred Hitchcock. 1954
Starring: Jimmy Stewart, Grace Kelly, Wendell Corey, Raymond Burr
Running time: 1 hour, 52 minutes
August 8 — "All About Eve"
An ingenue insinuates herself into the company of an established but aging stage actress and her circle of theater friends. Directed by Joseph L. Mankiewicz. 1950
Starring: Bette Davis, Anne Baxter, George Sanders
Running time: 2 hours, 18 minutes
August 15 — "Tokyo Story"
The elderly Shukishim and his wife, Tomi take the long journey from their small seaside village to visit their adult children in Tokyo. Directed by Yasujirô Ozu. 1953
Starring: Chishû Ryû, Chieko Higashiyama, Setsuko Hara
Running time: 2 hours, 16 minutes
August 22 — "12 Angry Men"
Following the closing arguments in a murder trial, the 12 members of the jury must deliberate, with a guilty verdict meaning death for the accused, an inner-city teen. As the dozen men try to reach a unanimous decision while sequestered in a room, one juror casts considerable doubt on elements of the case. Directed by Sidney Lumet. 1957
Starring: Henry Fonda, Lee J. Cobb, Martin Balsam, E.G. Marshall
Running time: 1 hour, 36 minutes
August 29 — "Laura"
In one of the most celebrated 1940s film noirs, Manhattan detective Mark McPherson investigates the murder of Madison Avenue executive Laura Hunt in her fashionable apartment. Directed by Otto Preminger. 1944
Starring: Gene Tierney, Dana Andrews, Clifton Webb
Running time: 1 hour, 28 minutes
---

FYI SEMINAR — "COMMON SHOULDER INJURIES WITH GOLF & TENNIS"
Friday, July 20 at 1:00 p.m.
Regardless of your age and activity level, shoulder injuries can be debilitating. Join Scott J. Curtis, DO, board certified in internal medicine and fellowship trained in sports medicine, and Chris Blessing, MPT, OCS, CSCS, and MS in exercise physiology with Princeton Medical Center, to learn more about the diagnosis, treatment and prevention of common orthopedic ailments specific to golf and tennis. Chris will also demonstrate exercises to protect and strengthen the shoulder.
Sponsor: Penn Medicine Princeton
---

FYI SEMINAR — "SENIOR LONELINESS & HOW TO HAVE A MEANINGFUL VISIT WITH A LOVED ONE"
Friday, July 27 at 1:00 p.m.
Join us for a two-part seminar. Christina Forte of Senior Bridge will address senior loneliness: how to identify it, the impacts of loneliness, and improvements. Barbara Forshner of Artis will discuss how to have a meaningful visit with your loved one.
Christina Forte has worked in senior healthcare since 2010, where she began as a social services coordinator in a skilled nursing facility.
Barbara Forshner has been in health care for the last 13 years and is currently Artis Senior Living's Director of Community Relations.
Sponsor: Artis Senior Living
---

TED TALKS
Every Tuesday at 10:30 a.m.
First we watch a TED Talk, then we discuss it. Discussions are facilitated by Helen Burton. All are welcome. This month's topics:
July 3 — No Ted Talk
July 10 — Rebecca Kleinberger: Why you don't like the sound of your own voice
July 17 — Hans & Olga Rosling: How not to be ignorant about the world
July 24 — Nicholas Negroponte: A 30-year history of the future
July 31 — Madhumita Murgia: How data brokers sell your identity
---

MEN IN RETIREMENT
Not meeting in July
---

MEN IN RETIREMENT — "CURRENT EVENTS DISCUSSION"
Friday, August 3 at 2:00 p.m.
Join in on the discussion. Everyone will have an opportunity to speak and express their opinion. All are welcome.
---

WOMEN IN RETIREMENT — "MANAGING DAILY LIVING WITH ARTHRITIS"
Friday, July 20 at 10:30 a.m.
Dr. Sanjina Prabhakaran, a board certified, fellowship trained rheumatologist from Capital Health-Rheumatology Specialists, will speak about the different types of arthritis that can occur in adults, symptoms, and how to manage the condition in everyday life. All are welcome.
---

WOMEN IN RETIREMENT — "EDUCATIONAL AND CULTURAL OPPORTUNITIES IN THE PRINCETON AREA"
Friday, August 17 at 10:30 a.m.
We will be exploring the multitude of programs, classes, and lecture series available in our community. Come join us to pick up some new ideas, including sources of information to help you stay informed throughout the year.
All are welcome.
---

TRANSITION TO RETIREMENT
Friday, July 20 at 3:00 p.m.
This group addresses the many kinds of issues that can arise during the transition to retirement. The group is facilitated by John George, PhD, licensed psychologist, and Dave Roussell, MSEd, MSW, LSW, PSRC Care Coordinator and HomeFriends Coordinator. This group is on hiatus during the month of August.
---

TECHNOLOGY WORKSHOP "STREAMING AND STREAMING DEVICES"
Wednesday, July 18, 10:00 a.m.– noon
High quality entertainment is one click away! In this class, we'll explain what streaming is, review the wide array of streaming channels (including "broadcast" and "cable" channels), and talk about streaming devices you can add to your TV. It's time to enjoy Netflix, YouTube, Apple TV, Google Chromecast, Amazon Fire, and more!
No fee. Registration required.
Instructor: Don Benjamin
---

SONGWRITING 101
Wednesday, July 11, 10:00–11:00 a.m.
Set to acoustic guitar music, you will share stories about the topic that the group chooses. Participants will learn the parts of a song and how they are structured encouraging them to come up with the lyrics through story telling.
No fee. Registration required.
Instructor: Sheli Monacchio
Sheli is the Director of Life Care Resources at Van Dyck Law
---

COMMUNITY PICNIC ~ FREE!
At Redding Circle
Wednesday, July 25, 5:30–7:30 p.m.
Redding Circle is located off of Mt. Lucas Road in Princeton
Join your neighbors for a picnic with grilled hot dogs, hamburgers, and more. We bring the BBQ, you bring the fun!
Open to the public, rain or shine.
Co-sponsored by the Princeton Public Library, Princeton Human Services, Princeton Police Department, and Committed and Faithful Princetonians.
---

COMING OF AGE IN AGING AMERICA
Encore Performance
Monday, August 13, 11:00 a.m.
This is an encore screening of the film that was shown at the Princeton Public Library in May 2018. This 2017 documentary from American Public Television/PBS examines the approach of a global demographic where most of the population will be more than 50 years old. The far-reaching implications for America's social and economic institutions as they adapt to this transformation are also examined.
This documentary and accompanying website have been designed as tools to change the conversation about aging and how our longevity will bring a systemic transformation of our society—today and in the future. The film's central thesis is that an aging society is not just about old people—it's our fundamental insitutions, policies, and systems, and how to approach re-engineering them.
No fee. Registration required.