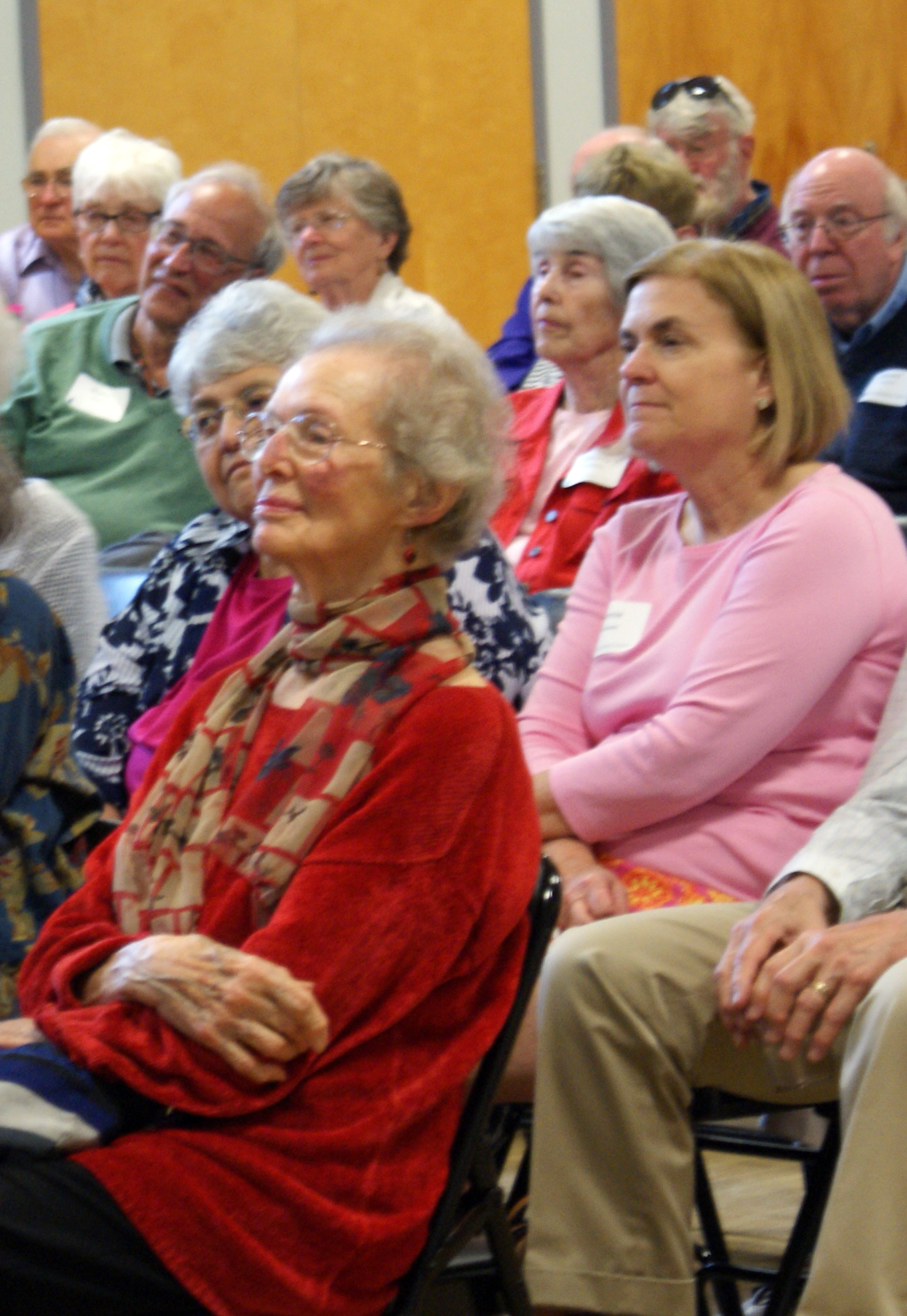 November
PROGRAM AND HIGHLIGHTS

FIRST FRIDAY FILM — "FINDING YOUR FEET"
Friday, November 2 at 1:00 p.m.
On the eve of retirement, a middle class, judgmental snob discovers her husband has been having an affair with her best friend and is forced into exile with her bohemian sister who lives on an impoverished inner-city council estate. (British comedy/drama) Starring: Imelda Staunton, Celia Imrie, Timothy Spall
Running time: 1 hour, 51 minutes
---

FYI SEMINAR — "AFFORDABLE SALES AND RENTALS IN PRINCETON"
Friday, November 9 at 1:00 p.m.
Maureen Fullaway, Manager of Princeton Affordable Housing, will discuss who qualifies for affordable housing in Princeton and how to apply to get on the wait list. Maureen has worked in the field of affordable housing for 25 years. She oversees the sales and rentals of affordable units in Princeton.
---

FYI SEMINAR — "BEATING THE HOLIDAY BLUES"
Friday, November 16 at 1:00 p.m.
The holiday blues are a problem for both older adults and their adult children. In older adults it causes overwhelming feelings which can lead to self-isolating behaviors of depression or escalating behaviors of anxiety. Join Christopher Kellogg of NightingaleNJ who will offer attendees the tools and techniques to manage the holiday blues for themselves or for their friends and family.
Sponsor: NightingaleNJ Eldercare Navigators
---

TED TALKS
Every Tuesday at 10:30 a.m.
First we watch a TED Talk, then we discuss it. Discussions are facilitated by Helen Burton. All are welcome. This month's topics:
November 6 — Ina May Gasking: Reducing fear of birth in the U.S. culture (recommended by Melaine Benson)
November 13 — Wolfgang Kessling: How to air condition outdoor spaces
November 20 — Peter Diamandis: Abundance is our future
November 27 — Paul Piff: Does money make you mean?
---

MEN IN RETIREMENT — "LIBERTY AND JUSTICE FOR SALE: REPRESENT.US AND THE ANTI-CORRUPTION CAMPAIGN"
Friday, November 2 at 2:00 p.m.
Are we an oligarchy or a representative democracy? The answer and the threat may surprise you — and rival that of the Russians! Represent.Us, a national volunteer organization is leading campaigns across the nation to fix the problem — including in New Jersey. Our presenters, David Goodman and Susan Colby, are team co-leaders of Represent.Us/Central New Jersey. All are welcome.
---

WOMEN IN RETIREMENT — "NEW JERSEY FACTS AND FIRSTS"
Friday, November 16 at 10:30 a.m.
Please join us for an interesting presentation from Eve Mandel, Director of Program and Visitor Services at the Historical Society of Princeton. Eve's talk highlights the Lenape Indians and early European settlers, the development of cities and suburbs, as well as technology and inventions. With a look at five tourism regions, participants will be inspired to visit cultural landmarks and environmental locations throughout the state. This fun and interactive presentation concludes with audience participation to identify N.J. facts, symbols, and local celebrities. All are welcome.
---

TRANSITION TO RETIREMENT
Friday, November 16 at 3:00 p.m.
This group addresses the many kinds of issues that can arise during the transition to retirement. The group is facilitated by John George, PhD, licensed psychologist, and Dave Roussell, MSEd, MSW, LSW, PSRC Care Coordinator and HomeFriends Coordinator.
---

BLOOD GLUCOSE SCREENING
Friday, November 2, 9:00-11:00 a.m.
Are you at risk for Type 2 Diabetes? A registered nurse from Capital Health will be providing free blood glucose screenings and will review the diabetes risk test with you. Fasting or 2-hour post meal required for accurate result. For appointment, please register on our website or call 609.924.7108. No fee.
---

THREE OVER NINETY: ART EXHIBITION & RECEPTION
Thursday, November 8, 4:00–5:30 p.m., 45 Stockton Street
Curated by Hannah Fink
Roslyn Dayan, Martha Kingsley, and Naomi Reich have been in Hannah Fink's mixed media art classes for more than three decades. Each artist has a unique talent and mode of expression that continues to develop into their 90's. Truly inspirational! Exhibition runs through November 30th.
---

HOLIDAY CARD CRAFTING
Wednesday, November 14, 10:30–11:30 a.m.
Here's an opportunity to get into the holiday spirit and wow friends and family. Alicia Vincelette is offering a class to learn the basics of greeting cardmaking using stamped images, dry embossing, folding techniques, and different coloring mediums. Supplies included. No experience required so give it a try! Fee: $7.00. Registration required; 10 registrant minimum. (If fewer than 10 people register we will notify you and issue a refund.)
---

TECH WORKSHOP: iPHONE BASICS 2
Monday, November 19 at 10:00 a.m.
This workshop will provide advanced information on the operating system of the iPhone. Participants should already have mastered basic settings, phone calls, texting, installing apps, contacts, and basic use of the camera. (NOTE: This class does not cover Android phones, such as Samsung, LG, or Motorola). Registration required. No fee. Class limit: 10.
Instructor: Evelyn Sasmor
---

YOUR ENGAGED RETIREMENT: A LECTURE SERIES "DOWNSIZING & ORGANIZING" WITH JOHN ODALEN
Monday, November 26 at 7:00 p.m.
Princeton Public Library in the Newsroom
(PSRC and the Princeton Public Library are co-sponsoring this series of free informational lectures on a wide array of retirement issues.)
Learn easy techniques on how to get organized and stay organized. Explore new ways to think about your possessions and discover different options for what to do with the items you are now willing and able to part with.
Professional organizer John Odalen specializes in helping people who feel overwhelmed by their stuff and want to get organized, but don't know where to start. A long time Lawrenceville resident, John published his first book on organizing, Real Value: New Ways to Think About Your Time, Your Space & Your Stuff, in March 2016 through Open Door Publications.
COMING UP:
Monday, January 28 — Legal and Estate Planning
Monday, February 25 — Financial Basics for the 50+
---

PSRC'S ANNUAL HOLIDAY PARTY
Wednesday, December 12, 1:00–3:30 p.m.
Music, Merriment, and Lunch! $5 per person. Details to follow.
Registration opens Monday, November 26th at princetonsenior.org or by phone at 609.924.7108.