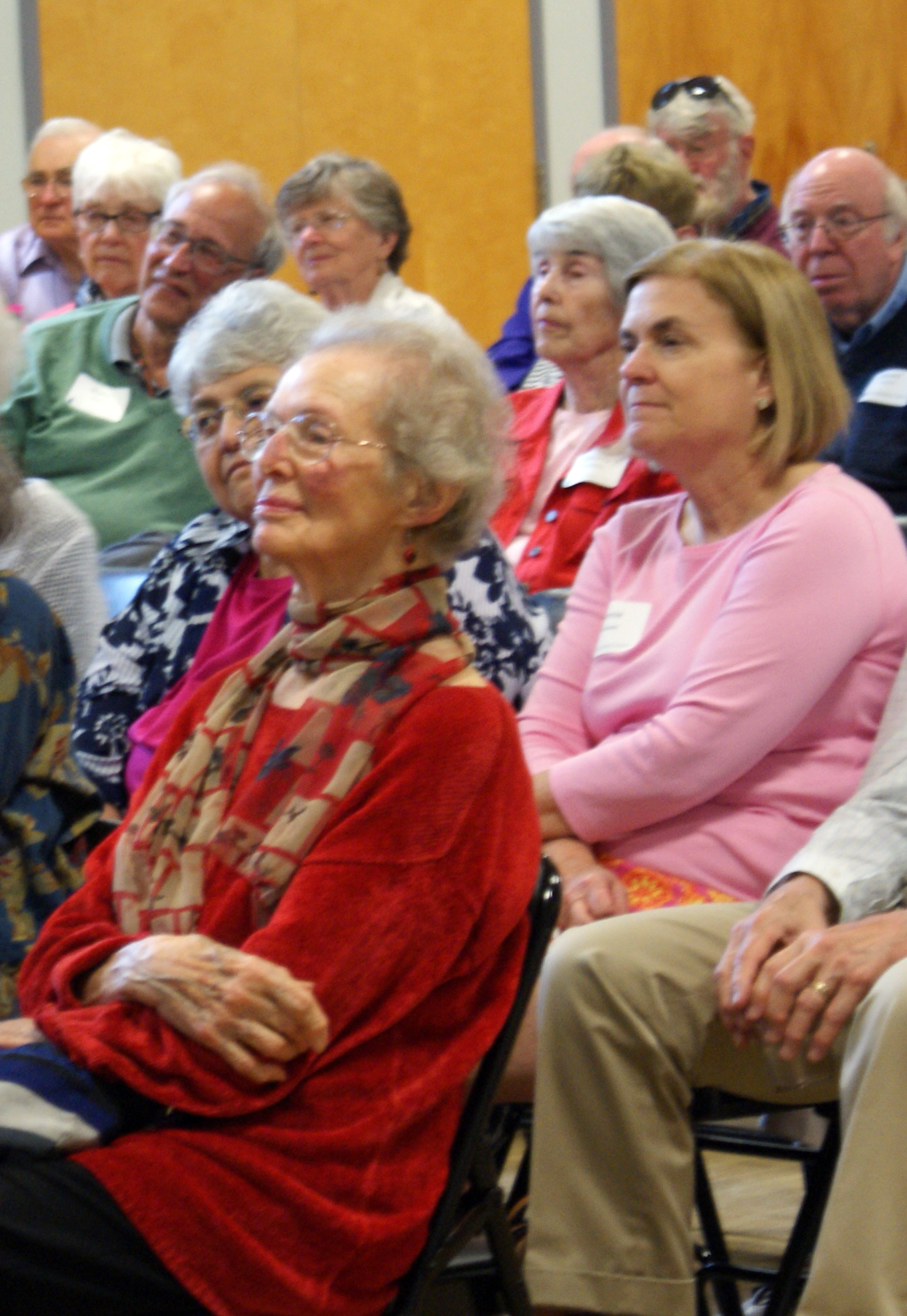 September
PROGRAM AND HIGHLIGHTS
PSRC'S FALL BENEFIT — "A NIGHT OF COMEDY"
Saturday, October 6, 7:00 p.m.
Featuring Bob Nelson & the Stress Factory's Vinnie Brand
Co-hosts Bill Spadea & Jessica Gibson
Tickets are on sale NOW!
---

FIRST FRIDAY FILM — "THE BATTLE OF THE SEXES"
Friday, September 7 at 1:00 p.m.
The true story of the 1973 tennis match between world number one Billie Jean King and ex-champ and serial hustler Bobby Riggs.
Starring: Emma Stone, Steve Carell, Andrea Riseborough
Running time: 2 hours, 1 minute
---

FYI SEMINAR — "EMERGENCY PREPAREDNESS"
Friday, September 14 at 1:00 p.m.
Preparing makes sense for everyone especially older Americans. This program will present information on how to evaluate your own personal needs and make an emergency plan. It will also outline how the Princeton Office of Emergency Management (OEM) and the Princeton Health Department are working together to offer resources that help our community be prepared. Kathy Korwin, RN, BSN and Carol Nicholas, RN, BA, Princeton Health Department Public Health Nurses.
Sponsor: Akin Care
---

FYI SEMINAR — "HOSPICE AND PALLIATIVE CARE"
Friday, September 21 at 1:00 p.m.
It is often challenging to make sound decisions during difficult times. Knowing what options are available greatly reduces stress and anxiety. Learn how hospice and palliative care programs provide help and support; their similarities and differences; and how they can make a positive difference.
Liz Cohen, LCSW, Hospice Social Worker with the Hospice Program of Princeton HomeCare, will present this invaluable program, which will include ample time to answer all your questions.
Sponsor: Penn Medicine Princeton Health
---

FYI SEMINAR — "MOVEMENT & PARKOUR FOR SENIORS"
Friday, September 28 at 1:00 p.m.
Parkour focuses on the art of movement through your environment in a safe, efficient, and confident way. Chris Moran of Our Playful Nature will discuss this outdoor program with its emphasis on playful exploration mixed with creative and mindful movement to build fitness and prevent falls. Become stronger, more balanced, more capable, and more confident with your body.
Chris has been a personal trainer and strength and conditioning coach for the past 8 years and currently teaches Parkour.
Sponsor: Nightingale NJ Eldercare Navigators
---

TED TALKS
Every Tuesday at 10:30 a.m.
First we watch a TED Talk, then we discuss it. Discussions are facilitated by Helen Burton. All are welcome. This month's topics:
September 11 — Brett Hennig: What if we replace politicians with randomly selected people
September 18 — Hyeonseo Lee: My escape from North Korea
September 25 — Julian Treasure: How to speak so that people want to listen (Recommended by Melanie Benson)
---

MEN IN RETIREMENT — "TO BUY OR NOT TO BUY: CLIMATE CHANGE AT THE JERSEY SHORE"
Friday, September 7 at 2:00 p.m.
This meeting will include a video conference about climate concerns and real estate at the Jersey shore. All are welcome.
---

WOMEN IN RETIREMENT — "3RD ANNIVERSARY CELEBRATION"
Friday, September 21 at 10:30 a.m.
Come and celebrate our third anniversary with a potluck brunch and lots of conversation. Join us in generating ideas for future programs and outings. Newcomers (or new members) are always welcome, along with everyone else!
---

TRANSITION TO RETIREMENT
Friday, September 21 at 3:00 p.m.
This group addresses the many kinds of issues that can arise during the transition to retirement. The group is facilitated by John George, PhD, licensed psychologist, and Dave Roussell, MSEd, MSW, LSW, PSRC Care Coordinator and HomeFriends Coordinator.
---

AWARENESS THROUGH MOVEMENT:
A FELDENKRAIS FOUR-PART SERIES
Tuesdays, September 11, 18, 25 and October 2
9:00–10:00 a.m.
Come and be open-minded about self-discovery and Feldenkrais benefits of sensory-motor learning which improves breathing, flexibility, coordination, and everyday movement. Each Feldenkrais class features a different "lesson" or theme that will involve lying on the floor, sitting in a chair, standing and walking, observing, and using imagination. Using verbally-guided attention, Feldenkrais Instructor, Jaclyn Boone will lead participants through gentle, non-strenuous movement sequences that evolve into more complex, comfortable, and efficiently coordinated movement patterns. Fee: $60 residents; $80 non-residents. There is a 6-student minimum, otherwise class will be cancelled and refunds will be issued.
---

MUSIC THROUGH THE DECADES
Wednesday, September 12, 10:00–11:00 a.m.
A comprehensive discussion of how societal changes have influenced music's evolution. This is an interactive discussion and includes live guitar music of well-known songs. Registration required. No fee.
Instructor: Sheli Monacchio
Sheli is the Director of Life Care Resources at Van Dyck Law
---

GRANDPAL ORIENTATION
Monday, September 17, 11:00 a.m.–12:30 p.m.
You don't have to be a grandparent to participate in GrandPals, the program that matches older adult volunteers with children in Princeton Public Schools to promote a love of books.
We will provide an overview of the program at the orientation, and you may sign up for one or more sessions. Please register online or call 609.924.7108.
---

TECHNOLOGY WORKSHOP "TEXTING 101"
Monday, September 24 at 10:00 a.m.
Topics covered will include: how to send and receive texts, texting pictures, texting lingo/abbreviations, and general texting etiquette and guidelines. Android and iPhone users are welcome. Please bring your smart phone with you, as this is a hands-on class. Registration required. No fee. Class limit: 10.
Instructor: Don Gould
---

YOUR ENGAGED RETIREMENT: A LECTURE SERIES "MEDICARE: WHAT YOU NEED TO KNOW TO MAKE WISE CHOICES"
Monday, September 24 at 7:00 p.m.
Princeton Public Library in the Newsroom
(PSRC and the Princeton Public Library are co-sponsoring this series of free informational lectures on a wide array of retirement issues.)
The SHIP program offers free, confidential, and impartial advice on the various parts of Medicare, when and how to enroll, and what programs are offered to help with the costs of Medicare. For more detailed questions we have a fleet of trained SHIP counselors ready to help, but why not join our presentation for an overview first?
Marion Zajac is a certified volunteer counselor for Medicare.
LECTURE SCHEDULE:
Monday, October 22—Transition to Retirement (liberation and self-discovery)
Monday, November 26—Downsizing and Organizing
Stay tuned for 2019 topics