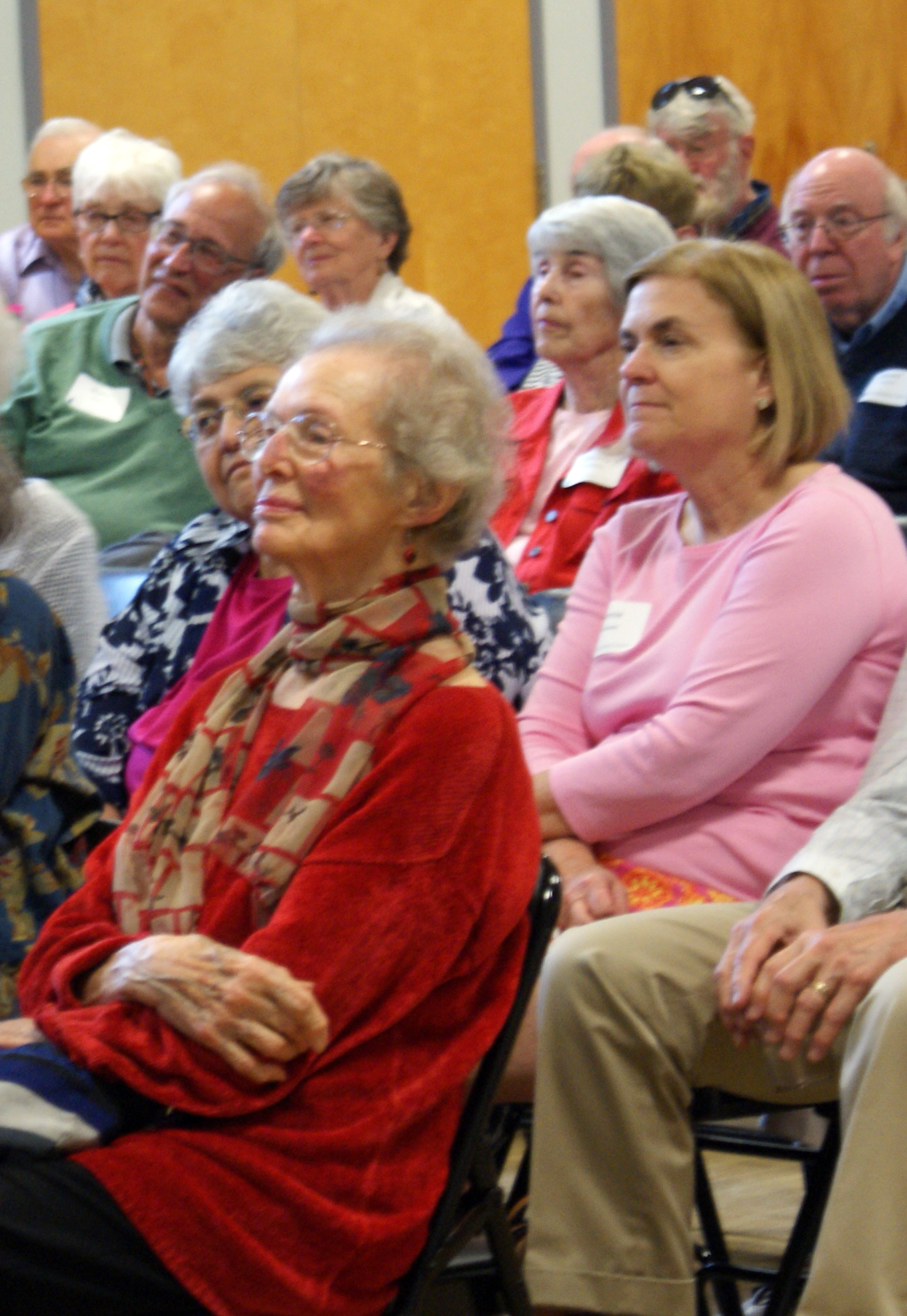 July/August
PROGRAM AND HIGHLIGHTS

FYI SEMINAR — "SENIOR LIVING HOUSING OPTIONS"
Monday, July 8 at 1:00 p.m.
This seminar will cover various senior living options and will provide a financial overview of costs associated with them. Included in the discussion are continuing care retirement communities, life care, independent living/active adult, assisted living, memory care residences, and long term care. You'll also learn how to finance these options, including long term care insurance, private pay, Medicaid, and Medicare. Hilary Murray, MS, CALA, has over 20 years of experience in the senior living industry, working in home care, medical adult day programs and senior housing.
Registration required, no fee.
Sponsor: Princeton Orthopaedic
---
FYI SEMINAR — "NJ COMPASSIONATE USE MEDICAL MARIJUANA ACT"
Monday, July 15 at 1:00 p.m.
The fastest-growing population of marijuana users in America is the elderly. Marijuana helps with some of the typical problems of aging like no other drug, and it does so safely and with fewer unwanted side effects than most pharmaceutical drugs on the market today. Learn more about senior citizens and marijuana. Ken Wolski, RN, MPA, has been a registered nurse (RN) since 1976 and is currently licensed to practice in New Jersey and Pennsylvania. He is the executive director and co-founder of the "Coalition for Medical Marijuana-New Jersey, Inc.," a 501(c)(3) public charity, since 2003. www.cmmnj.org
Registration required, no fee.
---
FYI SEMINAR — "NUTRITIONAL ISSUES RELATED TO DEMENTIA"
Monday, July 22 at 1:00 p.m.
Often maintaining a healthy well-balanced diet on a daily basis is difficult and even more challenging for those who suffer from dementia. Learn tips and tricks on how to encourage healthy eating with kindness and compassion. Judy Brennan, RN, is a clinical leader with Bayada Home Health Care and specializes in caring for seniors with kindness.
Registration required, no fee.
---

TED TALKS
Every Tuesday at 10:30 a.m.
First we watch a TED Talk, then we discuss it. Discussions are facilitated by Helen Burton. All are welcome. This month's topics:
July 2—Tiffany Watt Smith: The history of human emotions
July 9—Frans Lanting: The story of life in photographs
July 16—Alex Hannold: How I climbed a 3,000-foot vertical cliff—without ropes
July 23—CANCELLED
July 30—David Hooker: The importance of visual literacy
---

MEN IN RETIREMENT 
Not meeting in July
---

MEN IN RETIREMENT — "CURRENT EVENTS DISCUSSION"
Friday, August 2 at 2:00 p.m.
Lloyd Fredricks and Dan Weissman will lead us in a round table (chair) discussion of current events. There have been great topics in the past with very lively discussions. Everyone will have an opportunity to speak on the topic and express their opinion. This is a chance for you to be heard in an informal and supportive environment. Lloyd and Dan always pick interesting subjects! All are welcome.
---

WOMEN IN RETIREMENT — "MINDFULNESS MADE SIMPLE!"
Friday, July 19 at 10:30 a.m.
By now, many people have become aware of the superpower of mindfulness. Exactly what is it? How do I get started? What can it do for me? This presentation will answer all those questions and more! Our speaker will be Carol Rickard, LCSW, who has spent over 25 years in the behavioral health field as a social worker, trainer, and facilitator in hospital-based settings. All are welcome.
---

WOMEN IN RETIREMENT — "TRAVEL TALKS"
Friday, August 16 at 10:30 a.m.
Back by popular demand, the August meeting will feature the next installment in our series of travel talks. WIR members will share their adventures as we enjoy vicarious travel across the globe. All are welcome.
---

TRANSITION TO RETIREMENT
Friday, July 19 at 3:00 p.m.
This group addresses the many kinds of issues that can arise during the transition to retirement. The group is facilitated by John George, PhD, licensed psychologist, and Dave Roussell, MSEd, MSW, LSW, PSRC Care Coordinator and HomeFriends Coordinator.
---

SUMMER TECH WORKSHOP SERIES
10:00 a.m.–noon
Join the high school students from Education for Success assisted by PSRC's Tech Lab Volunteers for the following technology workshops:
Navigating Gmail on Friday, July 12
You will learn the anatomy of your email platform (appearances, features, etc.), how to compose and send an email, and how to organize your emails.
Using Uber and Lyft Services on Friday, July 26
This workshop will show you how to create and set up an account, how to order a ride to your location, and discuss issues of safety.
Using NJ Transit and Bus Services in Princeton on Tuesday, August 6
Learn how to navigate the NJ Transit app and find train times, how to use the app to track the Princeton FreeB Bus, and where to find the Tiger Transit Shuttle schedule.
Google Chrome Web Browser Functions on Tuesday, August 20
This workshop will cover how to manage Chrome settings, Chrome extensions and apps, and how to navigate tabs and browser history.
Instructors: Education for Success and PSRC's Tech Lab Volunteers
Education for Success is a nonprofit volunteer organization founded in 2017 by high school students in the Princeton area. They conduct tutoring sessions, workshops, and presentations to teach important life and academic skills to demographics that may not have access to education tools.
Please register (required) for each workshop separately, no fee.
---

SUMMER CINEMA SERIES
Fridays in July and August, beginning July 12 at 1:00 p.m.
Registration required, no fee
JULY 12: THE WIFE
The story of a couple's youthful passion and ambition interwoven with a portrait of a marriage, thirty-plus years later, a lifetime's shared compromises, secrets, betrayals, and mutual love. Starring: Glenn Close, Jonathan Pryce
Running time: 1 hour, 39 minutes
JULY 19: GREEN BOOK
When a bouncer from an Italian American neighborhood in the Bronx is hired to chauffer a world-class black pianist on a concert tour from Manhattan to the Deep South, they must rely on a book to guide them to the few establishments that were then safe for African-Americans. Academy Award for Best Picture Starring: Viggo Mortensen, Mahershala Ali
Running time: 2 hours, 10 minutes
JULY 26: TEA WITH THE DAMES (DOCUMENTARY)
Celebrated actresses and longtime friends Maggie Smith, Judy Dench, Eileen Atkins, and Joan Plowright with scores of iconic performances, decades of wisdom, and innumerable awards join for a weekend in the country as they catch up with one another, reminisce, and share their candid, delightfully irreverent thoughts on everything from art to aging to love to a life lived in the spotlight.
Running time: 1 hour, 24 minutes
AUGUST 2: ROMA
A year in the life of a middle-class family's housekeeper in Mexico City in the early 1970s. "Alfonso Cuarón's masterpiece Roma, an autobiographical movie set in Mexico City in the 1970s, uses both intimacy and monumentality to express the depths of ordinary life." — Manohla Dargis, NY Times
Academy Award for Best Foreign Language Film Starring: Yalitza Aparicio, Marina de Tavira
Running time: 2 hours, 15 minutes
AUGUST 9: BOHEMIAN RHAPSODY
This film follows history's most beloved entertainers, Freddie Mercury and Queen's meteoric rise, their revolutionary sound, Freddie's solo career, and one of the greatest performances in rock history. Academy Award for Best Actor Starring: Rami Malek, Lucy Boynton, Ben Hardy
Running time: 2 hours, 14 minutes
AUGUST 16: APOLLO 11 (DOCUMENTARY)
From the moment man set foot on the moon, the world has been a different place. This exceptional chronicle of Apollo 11 features new digital transfers of film and television coverage unmatched by any other. In fact, several unscheduled transmissions have never been broadcast. Starring: Neil Armstrong, Buzz Aldrin, Michael Collins
Running time: 1 hour, 33 minutes
AUGUST 23: THE FAVOURITE
A new servant arrives and charms the Queen of England. Their growing friendship gives the servant a chance to fulfill her ruthless ambitions. Academy Award for Best Actress Starring: Olivia Colman, Emma Stone, Rachel Weisz
Running time: 1 hour, 59 minutes
AUGUST 30: CALL ME BY YOUR NAME
In 1980s Italy, a romance blossoms between a precocious seventeen-year-old student and the older man hired as his father's research assistant. Academy Award for Best Adapted Screenplay Starring: Armie Hammer, Timothée Chalamet
Running time: 2 hours, 12 minutes
---

OPERA FILM FESTIVAL
Tuesdays in July beginning July 2 at 12:30 p.m.
Registration required, no fee
JULY 2: FRANCESCO CILEA'S ADRIANNA LEVOUVREUR (2004, IN ITALIAN)
With Freni, Cossotto, Vinco, Dvorsky; Teatro Alla Scala, Gianandrea Gavazzeni (conductor)
Running time: 2 hours, 39 minutes
JULY 9: CARL MARIA VON WEBER'S DER FREISCHUTZ (1981, IN GERMAN)
With Ligendza, Kramer, Raub; Wurtemburg State Opera; Dennis Russell Davies (conductor)
Running time: 2 hours, 26 minutes
JULY 16: UMBERTO GIORDANO'S ANDREA CHENIER (1962, IN ITALIAN)
With Del Monaco, Tebaldi, Protti; NHK Symphony Orchestra, Franco Cspuana (conductor)
Running time: 2 hours, 11 minutes
JULY 23: FRANZ LEHAR'S THE MERRY WIDOW (2005, IN GERMAN)
With Sarafin, De Arallano, Hausmann, Starzinga; Morbisch Festival Orchestra, Rudolf Bibl (conductor)
Running time: 2 hours, 30 minutes
JULY 30: SPECIAL EVENT: THE OPERA GALA: LIVE FROM BADEN-BADEN (GERMANY, 2007)
With Netrebko, Garanca, Vargas, Tezier; Sinfonie Orchestra Baden-Baden and Freiburg, Marco Armiliato (conductor)
Running time: 2 hours, 18 minutes
---

SIZZLING HOT FILMS OF THE 70s
Wednesdays in July and August, beginning July 3 at 10:30 a.m.
Registration required, no fee
JULY 3: KRAMER VS KRAMER
When his wife walks out, Ted Kramer and his six-year-old son have a chance to bond and learn about each other. When Ted's wife returns asking for her son, a painful custody battle ensues. Winner of five Academy Awards Starring: Meryl Streep, Dustin Hoffman
Running time: 1 hour, 45 minutes
JULY 10: ONE FLEW OVER THE CUCKOO'S NEST
This is the story of a free-spirited mental ward inmate whose rebelliousness pits him against the repressive head nurse, whose charm wins him the loyalty of his fellow inmates. Winner of five Academy Awards Starring: Jack Nicholson, Louise Fletcher
Running time: 2 hours, 13 minutes
JULY 17: SHAMPOO
George is one of L.A.'s most desirable men, a Beverly Hills hairdresser who makes all his female clients look and feel better than ever. Lee Grant won the Academy Award for Best Actress in a Supporting Role. Starring: Warren Beatty, Julie Christie, Goldie Hawn, Lee Grant
Running time: 1 hour, 49 minutes
JULY 24: ALL THE PRESIDENT'S MEN
True story of the Watergate break-in that led to the political scandal of the decade. Winner of four Academy Awards Starring: Dustin Hoffman, Robert Redford
Running time: 2 hours, 18 minutes
JULY 31: NETWORK
A satirical look at the politics and power struggles of television executives as a network news anchorman turns the tables on the "ratings." Winner of two Academy Awards Starring: Faye Dunaway, William Holden, Peter Finch
Running time: 2 hours, 1 minute
AUGUST 7: YOUNG FRANKENSTEIN
A finely tuned parody of the old Frankenstein movies by Mel Brooks, in which Gene Wilder returns to the old country to clear his family name. Winner of two Academy Awards Starring: Gene Wilder, Peter Boyle, Marty Feldman, Teri Garr
Running time: 1 hour, 46 minutes
AUGUST 14: BRIAN'S SONG
Based on the real-life relationship between teammates Brian Piccolo and Gale Sayers who played for the mid-1960s Chicago Bears and the bond established when Piccolo discovers that he is dying. Starring: James Caan, Billy Dee Williams
Running time: 1 hour, 13 minutes
AUGUST 21: MASH
The personnel of a Mobile Army Surgical Hospital in Korea develop a lunatic lifestyle to cope with the military bureaucracy and the horrors of war. Winner of an Academy Award Starring: Faye Donald Sutherland, Elliot Gould, Sally Kellerman
Running time: 1 hour, 56 minutes
AUGUST 28: THE STING
Set in 1930's Chicago, this story deals with two con men who seek revenge on a big-time gangster who was responsible for the murder of their friend. Winner of seven Academy Awards Starring: Paul Newman, Robert Redford, Robert Shaw
Running time: 2 hours, 9 minutes
---

SAVE THE DATE — PSRC Fall Benefit "Capitol Steps"
Friday, October 25, 7:30 p.m.
Stuart Country Day School, 1200 Stuart Road, Princeton
Over thirty years ago, the Capitol Steps began as a group of Senate staffers who set out to satirize the very people and places that employed them. Together the performers have worked in a total of eighteen congressional offices and represent sixty-two years of collective House and Senate staff experience.