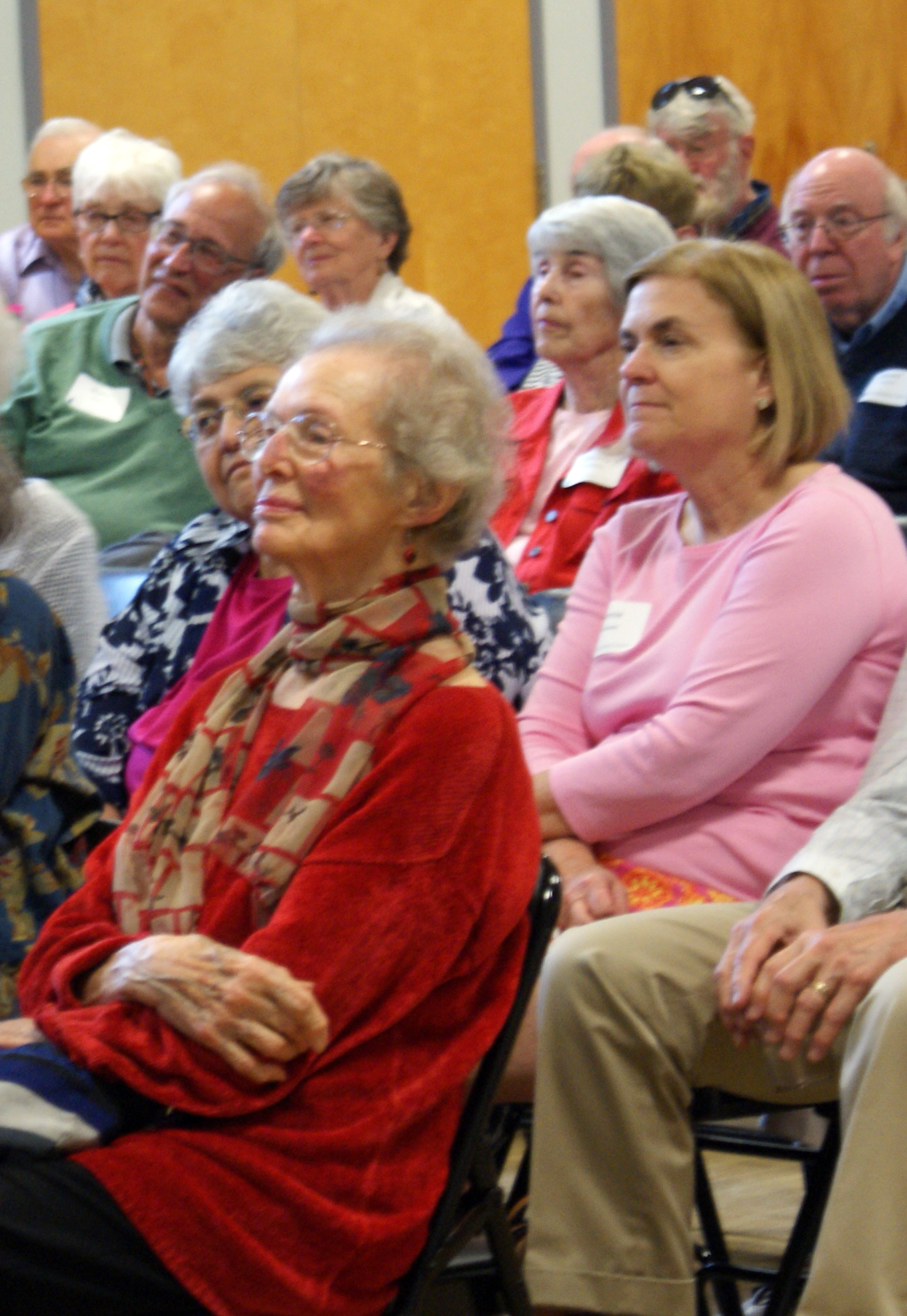 November
PROGRAM AND HIGHLIGHTS

ROMUS BROADWAY: THROUGH HIS LENS
A Personal Visual History
Monday, November 18 at 10:30 a.m.
Romus Broadway chronicles his experience living in a Princeton that was once segregated and will visit PSRC to share and discuss his version of that history. Mr. Broadway's powerful visual stories express his personal legacy while highlighting the vibrancy of Princeton's black communities past to present day. Come share and celebrate Mr. Broadway's photographic anthology and experience black identity through his lens.
Registration required, no fee.
---

FIRST FRIDAY FILM — "YESTERDAY"
Friday, November 1 at 1:00 p.m.
Jack Malik is just another struggling songwriter whose shot at fame is waning. After a mysterious blackout, Jack discovers he is the only person on earth who remembers The Beatles. As he rockets to fame by passing off the Fab Four's songs as his own, Jack risks losing Ellie — the one person who has loved and believed in him from the start. Starring: Himesh Patel, Lily James, Kate McKinnon, and Ed Sheeran
Running time: 1 hour, 56 minutes Genre: Romantic comedy, fantasy
Registration required, no fee.
---

FYI SEMINAR — "A FRESH LOOK AT NUTRITIONAL HEALTH"
Monday, November 11 at 1:00 p.m.
Nutritional health is no longer a matter of "calories in" vs "calories out." The changes in our environment, economies, and lifestyles have drastically altered what we are consuming as food over the last several decades. With a little education, we can make adjustments in our daily lives to reduce the burden of what our bodies are processing and be empowered to support ourselves through improved cognitive, emotional, and physical health.
Carrie Patterson Besler is an Independent Consultant with Arbonne International which is a health and wellness company that encourages people to flourish with the guiding values of empowerment, sustainability, and transparency.
Registration required, no fee.
Sponsors: Oasis Senior Advisors & Ovation at Riverwalk
---

FYI SEMINAR — "ANXIETY AND DEPRESSION IN OLDER ADULTS"
Monday, November 18 at 1:00 p.m.
The World Health Organization estimates that world-wide, over 300 million people suffer from depression and 264 million from anxiety disorders, leading to significant losses in health, quality of relationships, and overall functioning. This talk will review common symptoms of depression and anxiety, risk factors for older adults, as well as treatment options and lifestyle factors that have been shown to improve symptoms and support mental health.
Kim Casarona, DSW, LCSW, LCADC is the Associate Executive Director of Trinity Counseling Service. She has over thirty years of clinical experience treating children and adults suffering from anxiety and depression.
Registration required, no fee.
Sponsors: Oasis Senior Advisors & Ovation at Riverwalk
---

FYI SEMINAR — "SENIOR HOUSING OPTIONS"
Monday, November 25 at 1:00 p.m.
Join Connie Pizarro, a Certified Senior Advisor, to learn what senior housing options are available, what's right for you, and how much does it all cost? Connie is the owner of Oasis Senior Advisors. She has been helping seniors and their families for more than four years to understand the options available to them when more help is needed than family can provide.
Connie provides her services at no cost to seniors and their families.
Registration required, no fee.
Sponsors: Oasis Senior Advisors & Ovation at Riverwalk
---

TED TALKS
Every Tuesday at 10:30 a.m.
First we watch a TED Talk, then we discuss it. Discussions are facilitated by Helen Burton. All are welcome. This month's topics:
November 5—Story Musgrave: Excellence, Exploration, and Evolution | TEDxWakeForestU (recommended by Melanie Benson)
November 12—Jose Andres: How a team of chefs fed Puerto Rico after Hurricane Maria
November 19—Benjamin Zander: The transformative power of classical music
November 26—Chip Conley: What baby boomers can learn from millennials at work — and vice versa
Sponsors: Artis Senior Living & Capital Health
---

MEN IN RETIREMENT — "SPECIAL PERFORMANCE BY BOB MECKLENBURGER"
Friday, November 1 at 2:00 p.m.
Bob Mecklenburger, a member of Men in Retirement, will be performing and singing with his acoustic six- and twelve-string guitars. Bob has been a featured performer at house concerts and coffee houses in the New Jersey and Pennsylvania areas for over fifty years. He was televised on Café Improv by the Princeton Arts Council. All are welcome.
---

WOMEN IN RETIREMENT — "UNDERSTANDING MEMORY LOSS"
Friday, November 15 at 10:30 a.m.
Memory loss is often dismissed as a normal part of aging, but it can mean something more. Attend this informative session presented by Jeffrey Apter, MD, board certified in psychiatry and member of the medical staff of Penn Medicine Princeton Health, and learn the difference between mild cognitive impairment, dementia, and Alzheimer's disease, as well as the next steps for people who have started to notice a decline in their memory. All are welcome.
---

TRANSITION TO RETIREMENT
Friday, November 15 at 3:00 p.m.
This group addresses the many kinds of issues that can arise during the transition to retirement. The group is facilitated by John George, PhD, licensed psychologist, and Dave Roussell, MSEd, MSW, LSW, PSRC Care Coordinator and HomeFriends Coordinator.
---

WHAT'S NEW FOR MEDICARE IN 2020
Tuesday, November 12 at 12:30 p.m.
Find out what's new for Medicare in 2020 and what that means for you when comparing your coverage in the annual enrollment period. It is important to note that December 7 is the last day to choose the right plan for you.
Cathy Forbes has been the coordinator for the Mercer County SHIP program for over three years and works with a team of volunteer SHIP counselors to ensure seniors have access to free, local, unbiased information about Medicare.
Registration required, no fee.
---

POSTURE SCREENING
Wednesday, November 13 at 1:30 p.m.
Dr. Carleen Thum of Gentle Chiropractic will bring the newest technology for posture screening. Using a photo taken during your screening, Dr. Thum will analyze the results which will then be emailed directly to you. It will take only five minutes to learn how your posture affects your health, your balance, and daily activities.
Registration required, no fee.
---

YOUR ENGAGED RETIREMENT: A LECTURE SERIES
PSRC and the Princeton Public Library cosponsor this series of free information lectures on a wide array of retirement issues.
Affordable Housing in Princeton
Monday, November 25 at 7:00 p.m.
Princeton Public Library, Newsroom
Ed Truscelli and Maureen Fullaway will present a short history of affordable housing in Princeton, the scope of currently available housing opportunities, and application and eligibility criteria. They will also discuss the future of housing opportunity in Princeton.
Ed Truscelli is the Executive Director of Princeton Community Housing and Maureen Fullaway is the Affordable Housing Manager for the Municipality of Princeton.
SCHEDULE:
January 27: Tax Updates for the 2019 Filing Season
February 24: Downsizing & Organizing
March 23: Transition to Retirement
April 27: Volunteering in Retirement