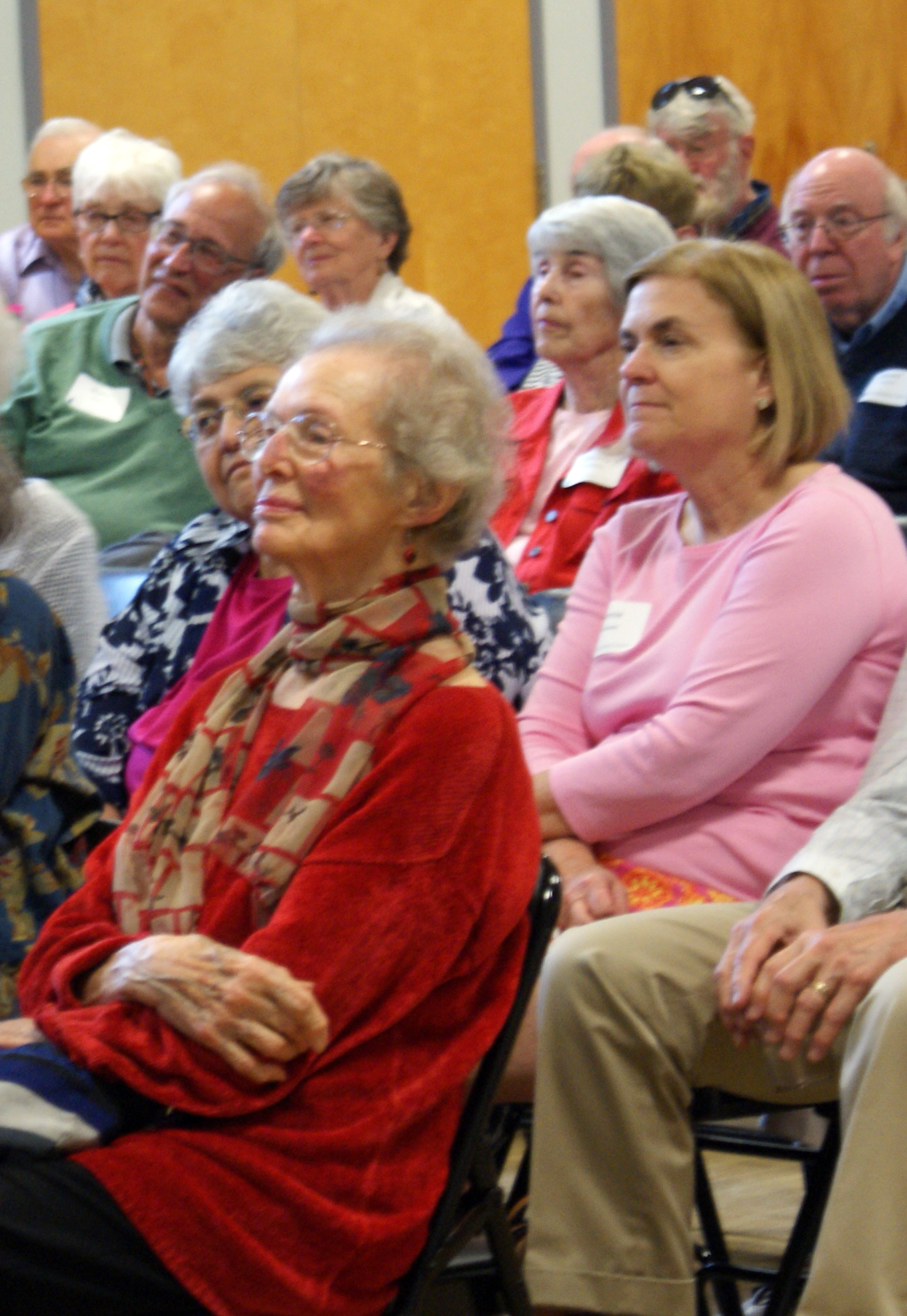 May
PROGRAM AND HIGHLIGHTS

GALLERY TALKS ON THE ROAD
Mondays in May and June
Beginning May 6 (no class 5/27) 11:00 a.m.-12:00 p.m.
Join the Princeton University Art Museum's outstanding docents as they come to PSRC to provide images of and insight into the Museum's collections and special exhibits. This 6-session course is a collaborative effort between the Princeton University Art Museum, PSRC, and The Evergreen Forum.
Registration required. $65.00 for the 6-session course.
---

The Hun School of Princeton Presents Alfred Hitchcock's Classic Thriller: Notorious
Thursday, May 30 at 1:00 p.m.
Join students and teachers from The Hun School at PSRC for a special screening of the 1946 movie Notorious starring Cary Grant, Ingrid Bergman, and Claude Rains. Before the screening, the program will kick off with a meet & greet event with the students who have been studying Alfred Hitchcock films as part of a special spring elective course at Hun. We look forward to seeing you there! Light refreshments.
Registration required, no fee.
---

FIRST FRIDAY FILM — "RBG"
Friday, May 3 at 1:00 p.m.
"At the age of 85, U.S. Supreme Court Justice Ruth Bader Ginsburg has developed a lengthy legal legacy while becoming an unexpected pop culture icon. But the unique personal journey of her rise to the nation's highest court has been largely unknown, even to some of her biggest fans — until now. RBG explores Ginsburg's life and career."
— RBGmovie.com
Starring: Ruth Bader Ginsburg, Bill Clinton, Gloria Steinem, Nina Totenberg
Running time: 1 hour, 38 minutes
Registration required, no fee.
---

FYI SEMINAR — "UNDERSTANDING FOOD-BORNE ILLNESSES"
Monday, May 13 at 1:00 p.m.
Recently there have been several widely reported cases of people becoming ill from eating contaminated food. Join David J. Herman, MD, FACP, board certified in infectious disease, for this informative discussion on the signs and symptoms of food-borne illnesses and how you are most likely to contract them. Dr. Herman is the hospital epidemiologist of Penn Medicine Princeton Medical Center.
Registration required, no fee.
Sponsor: Homewatch Caregivers
---

FYI SEMINAR — "MORTGAGES FOR DOWNSIZING"
Monday, May 20 at 1:00 p.m.
Learn the how's and why's to use a mortgage for downsizing to reach your financial goals. Kevin Kenyon, of Finance America, has been an accomplished mortgage professional in Princeton for over 25 years. Come and benefit from his experience and knowledge.
Registration required, no fee.
Sponsor: BlackRock
---

TED TALKS
Every Tuesday at 10:30 a.m.
First we watch a TED Talk, then we discuss it. Discussions are facilitated by Helen Burton. All are welcome. This month's topics:
May 7—Dan Gibson: "How to build synthetic DNA and send it across the internet" (recommended by Nayan Trivedi)
May 14—Guy Winch: "Why we all need to practice emotional first aid"
May 21—Sakena Yacoobi: "How I stopped the Taliban from shutting down my school"
May 28—Wendy Suzuki: "The brain changing benefits of exercise"
---

MEN IN RETIREMENT — "ETHICAL DILEMMAS — WHAT WOULD YOU DO?"
Friday, May 3 at 2:00 p.m.
What would you do? Please join us for a discussion on Ethical Dilemmas — we will view a video quiz on 6 different ethical dilemmas and then discuss the group's reaction to the situations. We anticipate a lively discussion on the results of the exercise! All are welcome.
---

WOMEN IN RETIREMENT — "CLIMATE CHANGE — WHAT CAN YOU DO?"
Friday, May 17 at 10:30 a.m.
Many U.S. cities are setting ambitious goals to address our changing climate and improve the quality of life for their citizens. Come learn what you can do to help in your community. Our speaker will be Jenny Ludmer, community outreach manager, Sustainable Princeton. All are welcome.
Special location — MH Multipurpose Room (downstairs)
---

TRANSITION TO RETIREMENT
Friday, May 17 at 3:00 p.m.
This group addresses the many kinds of issues that can arise during the transition to retirement. The group is facilitated by John George, PhD, licensed psychologist, and Dave Roussell, MSEd, MSW, LSW, PSRC Care Coordinator and HomeFriends Coordinator.
---

MINDFUL CHAIR YOGA & MEDITATION — TWICE A WEEK!
Tuesdays, 9:30 a.m.
Thursdays, 9:00 a.m.
This class has been revamped to include meditation and is now available on Tuesdays and Thursdays. The first half of the class is a gentle, versatile form of yoga that is adaptable for all skill levels followed by instructor led meditation. Reduce stress, gain flexibility, strength, and energy, all at a perfectly slowed pace. Improve overall health and well-being! You can register for both days a week, one day a week, or just drop-in.
Tuesdays, 9:30–10:30 a.m. — residents $72/qtr., non-residents $96/qtr., or $15 drop-in
Thursdays, 9:00–10:00 a.m.— residents $72/qtr., non-residents $96/qtr., or $15 drop-in
---

THE MARVELOUS MRS. MAISEL — SEASON 2
Tuesdays and Thursdays beginning May 2 through May 16, 1:00–3:00 p.m.
Catch up with Midge in Season 2. "To say that the new season doubles down on everything the first did is an understatement. The Marvelous Mrs. Maisel is a concentrated version of itself in Season 2, thanks to the addition of an obviously inflated budget, more elaborate locations, and two extra episodes". — Variety
Join us for two episodes per day. We'll provide a synopsis of Season 1 along with a summary of Season 2 episodes just in case you miss a show.
Registration required, no fee.
---

AWARENESS THROUGH MOVEMENT: A FELDENKRAIS 4-SESSION WORKSHOP
Tuesdays in May, beginning May 7, 9:00–10:00 a.m.
Embark on a journey of self-discovery to explore the benefits of sensory-motor learning for improved breathing, flexibility, coordination, and everyday movement. Each Feldenkrais class features a different "lesson" or theme that will involve lying on the floor, sitting in a chair, standing and walking, observing, and using imagination. Using verbally-guided attention, Feldenkrais Instructor, Jaclyn Boone will lead participants through gentle, non-strenuous movement sequences that evolve into more complex, comfortable, and efficiently coordinated movement patterns. Fee: $60 residents; $80 non-residents.
---

SPECIAL SCREENING — "A STAR IS BORN"
Friday, May 10 at 1:00 p.m.
A seasoned musician helps a young singer find fame as age and alcoholism sends his own career into a downward spiral. Academy Award nomination for Best Picture.
Starring: Lady Gaga, Bradley Cooper, Sam Elliott
Running time: 2 hours, 16 minutes
Registration required, no fee.
---

TECHNOLOGY WORKSHOP: "MAC OS BASICS"
Wednesday, May 22 at 10:00 a.m.
This is a basic skills class on the Mac Operating System. We'll cover what the operating system does, how to manipulate windows on the computer desktop, and trackpad and mouse gestures. We'll also discuss files and folders, Time Machine backups, several common applications that Apple includes on its Mac computers, and the Apple App Store. Important: This hands-on workshop is only for Mac laptop and desktop computers. Bring your laptop to class. Space is limited.
Instructor: Don Benjamin
Registration required, no fee.